Stack Media Opts Out of Apps, Goes Responsive

Survey shows company's teen audience prefers responsive design format.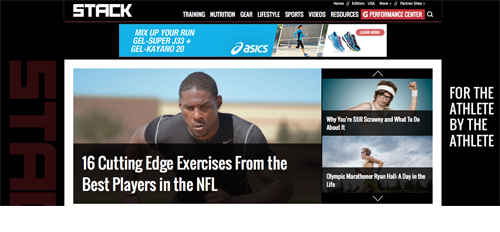 Stack Media has relaunched Stack.com in responsive design. The decision, while not necessarily ground-breaking these days, is interesting because the company's customer research revealed its audience of teen-aged athletes prefers to get its content from websites, not apps.  
Stack.com attracted 4 million monthly uniques in September and Stack Media co-founder and CEO Nick Palazzo says about 35 percent of the audience comes to the site each month from a mobile device.
"We wanted to create a better experience and increase engagement," says Palazzo. "The other side of it is the question of whether to go with an app or responsive design. After doing some research with our audience, we found out apps are out of vogue. [Teens] use them for social, but once it has a specific utility, they prefer it to be a site."
Stack's teen athlete audience—the company distributes 875,000 copies of its magazine to 13,500 high schools—is understandably a mobile-centric demographic. And Stack's content is highly service and how-to oriented, making universal access a critical component of the mobile strategy.
"We need to be accessible whenever they need us," says Palazzo.
Going forward, Stack is planning on building out a text messaging service and database. Athletes can sign up to receive text messages that will contain a training tip with a link to video content—driving more traffic back to the site.
Palazzo sees sponsorship opportunities in this model as well. "We're not a pay-for product so to monetize it we'll definitely need to bring our brand partners along," he says. "Gatorade and Nike have some great content assets. For example, RG3 (Washington Redskins quarterback Robert Griffin III) is a Gatorade athlete. We could send a text from RG3 sponsored by Gatorade."
Meet the Author
---