---
In the court of public opinion, the burden of proof often falls upon those who seek to dispute conventional wisdom.
That's the idea, at least, behind recent advocacy by the MPA, the association representing about 175 of the largest consumer-facing magazines in the U.S.
In what MPA president Linda Thomas Brooks calls her "preponderance of evidence strategy," advertising and publishing execs across the country have been treated to a presentation rich with data from the likes of Millward Brown, Nielsen Catalina Solutions, and GfK MRI, among others — all aimed at lauding the power of print advertising relative to other channels.
And the evidence is compelling. The Nielsen Catalina study, which analyzed 1400 ad campaigns, found that print advertising provided brands with an average return of $3.94 for every $1 spent, a full 50 percent higher than the $2.63 average ROI driven by digital display ads and more than double the $1.53 driven by digital video.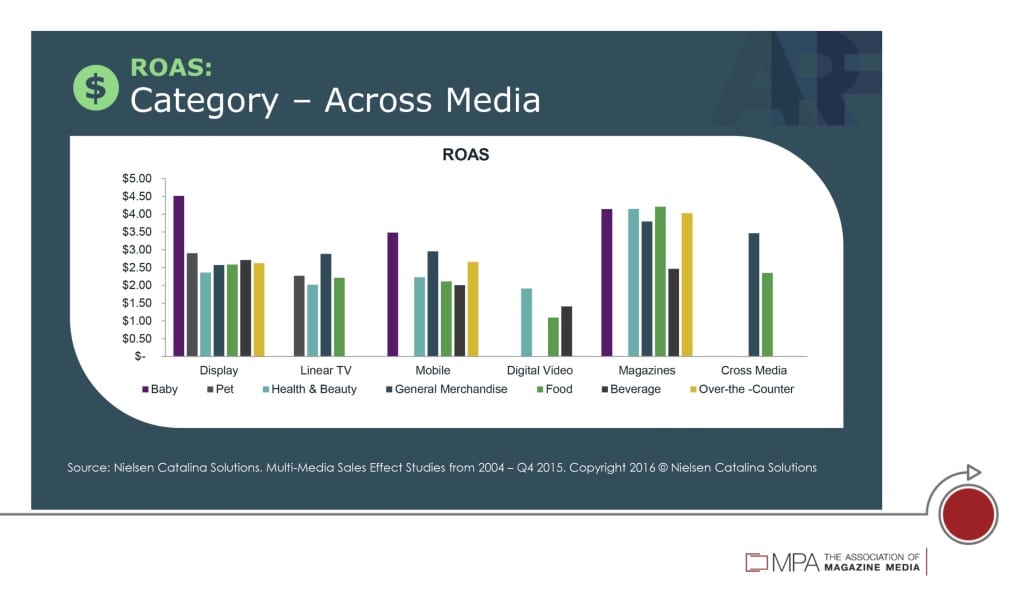 Across categories and levels of brand recognition, the conclusion that print outperforms digital on a per-capita basis remains the same.
The findings aren't news to agencies or publishers. As far back as 2011, Meredith Corp. began instituting a money- or space-back guarantee if print ad campaigns did not meet a pre-pledged return on investment. Other industry giants, like Hearst, Time Inc., Condé Nast, and Rodale soon followed suit. Earlier this year, the MPA formalized the program across its membership, which it claims represents 72 percent of the U.S. magazine business.
Where's the beef?

From my perspective, the MPA's advocacy work on behalf of the industry raises one essential question: given the multitude of independent verification that advertising in print outperforms campaigns on other media channels, why do brands and the agencies they retain continue to focus their spending around digital advertising?
A number of conclusions have been proposed, none of them universally agreed upon. One commonly floated theory is that digital advertising is a "shiny new object," and brands are fearful of occupying any space other than the cutting edge. This certainly has an element of truth to it, but as the industry continues to develop innovative new products and practices addressing the many issues associated with digital advertising — and the practice of delivering tailored content to specific audience segments becomes more sophisticated — positioning print as the old, reliable stalwart in an increasingly digitized world sets the stage for a PR battle that the magazine industry is not likely to win.
More compelling, at least in my estimation, is the argument that the diminishing reach of print media outweighs its relative superiority in performance. In other words, it doesn't matter how effective your advertising campaign is if it reaches an ever-shrinking pool of consumers.
But don't take my word for it.
"It is the nature of the print business," Dan Simion, the North America lead for marketing analytics at Accenture, told Folio: this summer. "As the circulation diminishes, the reach diminishes, so while still being effective in terms of high returns on the investment, the efficiency is not as strong and will not drive a high volume of responses and incremental sales."
Simion elaborates that while print campaigns are still integral parts of many media buys, they generally need to be augmented with channels that cast a wider net.
"You need to be careful in the balance between a highly effective media channel with high ROI and the potential for how much volume the media channel can drive."
This is in line with conclusions from the aforementioned Millward Brown study, which found that, other factors being equal, adding a print component to an online campaign improves persuasion metrics by over 10 percent, and adding print to a TV campaign improves purchase intent by a whopping 17 percent.
Who really needs convincing?

With all of this out in the open, perhaps it is the magazine industry itself that needs to be sold on the power of its printed products as much as the advertisers they increasingly struggle to court.
The standard bearers of the industry — Condé Nast, Hearst, Meredith, Rodale, and Time Inc. — publicly extol the gravitas of their printed products and the strong audience relationships fostered therein before privately sweeping out the staffs that produce and support them in favor of an emerging class of specialists in digital media and video. It's important to note that this is not always done through broad, headline-generating rounds of layoffs, as have occurred at Condé Nast, Rodale, and Time Inc. over the past year, and at Meredith earlier in 2015, but also through hiring freezes, reductions in frequency, the merging of titles, or the outright closure and/or digitization of underperforming ones.
There is nothing condemnable about pivoting a business to embrace modern-day trends. As marquee advertisers pull back on print spending, particularly in vital sectors like fashion and luxury, publishers are smart to embrace new opportunities. It's also important to note that declines in ad spending are not the only factor at play; the slow death of the newsstand has undoubtedly accelerated publishers' willingness to abandon numerous print titles, and publishers themselves have only exacerbated the crisis surrounding ad-driven print revenues by artifically driving up circulation to meet ratebases that often outpace consumer demand.
This isn't to say that the MPA itself has failed to adapt to the current circumstances, most obviously in its name change, from the "Magazine Publishers of America" to the "Association for Magazine Media," in 2010, but also through its choice of leadership, partnerships, research, and events. But if the industry plans to continue fighting an uphill battle against popular perception, its largest stakeholders — whose dues fund the MPA's advocacy and whose executives guide its strategy on both the Board of Directors and Executive Committee — must remember that actions often speak louder than words.
If not, the disconnect between the largest publishers and those in the smaller or mid-size range — many of whom not only still depend on their print products but are reversing revenue declines by reinvesting in them — will only continue to fuel an industry-wide identity crisis.