Spotify Play Button Launches With SPIN, PEOPLE, Entertainment Weekly, Rolling Stone

Artists earn royalties per play.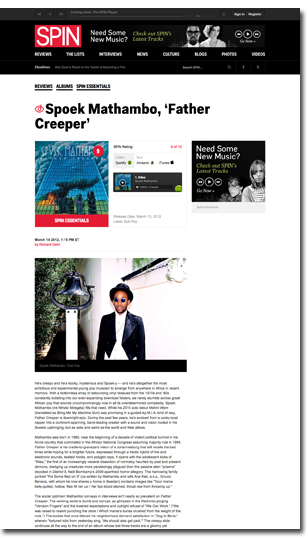 Digital music service provider Spotify launches its Play Button today with a handful of influential magazine brands signed on as partners. The Play Button allows for song integration directly into websites, as well as simple sharing for bloggers and social media sites. Already, SPIN, Rolling Stone, PEOPLE and Entertainment Weekly are on board.
SPIN.com is integrating the Play Button into its extensive collection of album reviews (see image below). Jeff Rogers, SPIN digital general manager, explains the immediate benefits of the feature. "We have over 7,000 reviews that we've recently surfaced on our new website, and although we're clearing tracks for promotional use daily and trying to surface for our readers, it's a laborious process," Rogers tells FOLIO:. "[Before the Play Button] there was no real way we could scale that up to 7,000 overnight, or even over time."
The website is featuring the first song of every album reviewed, but Rogers says this may change in the future. He says the functionality behind the Button itself may eventually shift as well.
As for a revenue agreement, Rogers says there is not a monetization strategy attached to the partnership with Spotify. "Today, this is about them providing a functionality to music enthusiasts and our readers," says Rogers. "It has a lot of value for us as a music media company, in terms of doing something we could not previously provide for our readers to this scale."
EW.com and PEOPLE.com will utilize the Button to create curated playlists, as well as enrich musical-based editorial. A statement from PEOPLE says, "We also look forward to using the button to highlight newsworthy artists."
Over at SPIN, Rogers says, "It's occurred to us that this goes beyond just listening to reviewed records, and we're excited about the future. It's changed a lot of internal thinking, and we'll see what we can make out of it."
Spotify is available in 13 countries, with 10 million active users and 3 million paying subscribers. According to the company's website, participating musicians earn royalties each time a song is played, and labels/artists are able to access reports of song use.
Spotify did not immediately return request for comment.
Meet the Author
---