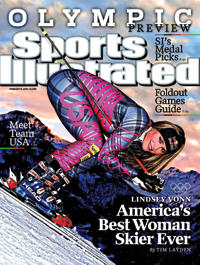 The extraordinary Sports Illustrated won the Gold Medal (or the Gold Eddie Award, at least) for its 2010 Winter Olympics preview issue. There's a nice symmetry to that.
SI has consistently devoted enormous resources to its Olympic coverage and its February 8, 2010, issue might have been the most comprehensive and compelling preview so far. Staff writer Brian Cazeneuve predicted the winners of all 258 medals up for grabs across the 86 events and introduced the potential stars of Team USA, while reporter Rebecca Sun's comprehensive "Games Guide" provided details on what to look forward to and the Vancouver Games' facilities. Finally, there were the prophetic profiles on three athletes who wound up being some of the Olympics' biggest stars: Lindsey Vonn, Shani Davis and Sidney Crosby.
Of course, the cover of the issue, featuring skier Vonn in a pose some observers through was a bit provocative, generated the requisite buzz.
Assistant managing editor Craig Neff, who directed the Olympic coverage, noted that although the Olympics are an event of enormous intensity, the public doesn't come into the games with a great deal of knowledge of the sports or the individual athletes. "We did give a lot of space to the U.S. team, and we did this beautiful photo gallery called, 'Meet Team USA.' It gave a lot of tips about the team and also was visually very strong."
And how did the medal predictions go? "Everyone was startled by the U.S. setting the record for the most medals in the Olympics," Neff confesses.
As with any Sports Illustrated venture, the issue was packed with magnificent photography and insightful journalism—the kind of work that makes you remember what's great about good old print magazines. "I can only praise the fantastic work done by Steve Fine, the director of photography, and the design director, Chris Hercik," Neff says. "I think we all worked together wonderfully. We gave them the room to show how beautiful a magazine can be. [Editor] Terry McDonell likes the Olympics a lot and having the editor in your corner is really important when pages are tight."