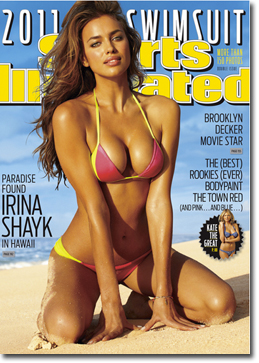 The debut of the 2012 Sports Illustrated Swimsuit issue will coincide with a Gilt sale, touting SI-curated bathing suits, surfboards, photographs and event tickets to consumers. In a twist on the new rev stream model many publishers aim for in the ecommerce game, all sale proceeds will be donated to The Nature Conservancy to preserve the beaches SI features in its pages.
The sale has both philanthropic and marketing advantages: Sports Illustrated will not make immediate money from purchased goods, but its Swimsuit issue will gain exposure through in-sale messaging on the Gilt site. The sale, which will be advertised in-book in a special section, kicks off on February 14; the same day the Swimsuit edition hits newsstands.
Quiksilver will provide a set of two surfboards for sale, and SI staff collated a list of over 100 designers whose bathing suits are seen in the Swimsuit issue. MJ Day, senior editor with Sports Illustrated, says 10 designers were then asked to donate their products to the sale. 10 prints from the Swimsuit shoot will be available for purchase as well, in addition to tickets for SI Swimsuit launch parties in New York City and Las Vegas. Bidding for New York tickets will begin at $1,000.
"We have 26 million female readers, with a 70/30 [male/female] percent readership. Like SI, Gilt has a vast audience of both men and women," says Day.
"We thought it would be a perfect alignment between our two brands. Women read our magazine for the fashion, accessories and vacation ideas. Men read it for the more obvious reasons."
Gilt, which currently has over 4 million members, recently partnered with Women's Health for an ecommerce promotion. Gilt's other magazine partners include Self, Vogue and GQ.