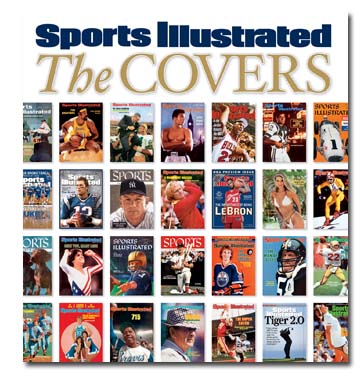 Fans of Sports Illustrated's top-notch photography now have the opportunity to hold every cover ever published by the magazine in one new book. The magazine is releasing Sports Illustrated: The Covers, a 208-page collection of more than 2,500 color photographs.
According to Sports Illustrated group editor Terry McDonnell, the book is more than just a simple collection of covers. He says it "chronicles the changing sports panorama and landscape over the last 55 years. An SI cover often becomes an instant pop icon and this book features some of the most loved, memorable and controversial cover images over the decades."
The book is divided up by decade and features all the covers in chronological order. (The first issue was August 16, 1954.) Each decade features a chapter introduction written by the SI editor who the magazine deemed most closely associated with that 10-year span. McDonell wrote the forward, which features cover analysis like which athlete and which team have had the most cover appearances, which photographer shot the most covers, etc.
With a $29.95 cover price, Sports Illustrated: The Covers is expected to be available in bookstores and at SI.com starting October 12.