Sports Illustrated to Open Free Digital 'Vault'

Aims to be a Wiki-style sports encyclopedia.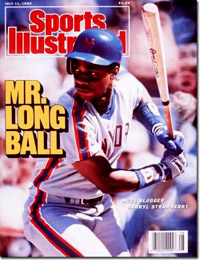 After more than two and a half years in development, Sports Illustrated is set to launch the SI Vault, an ambitious digital archive project it hopes will change the game for sports history nuts—and for magazines putting their archives online.
An announcement is expected later today.
The "Vault" collects more than 150,000 stories, 2,600 covers and a half-million photos spanning the magazine's 54-year archive. Users can then search a database that contextually links video, statistics, user-generated Wiki-style content and memorabilia from across the Web. The magazine also partnered with Truveo to offer relevant videos as part of their search.
The Vault is expected to launch Thursday.
Users can also view old SI articles as a Web page or in PDF format.
According to Nielsen Online, SI.com averages slightly more than 6 million unique visitors per month. According to SI executives, the search engine value of the project alone could increase that number significantly, perhaps even double the traffic. (When SI acquired Fan Nation, the social network for sports fans, it saw an increase of 5 million visitors.)
SI group president Mark Ford declined to discuss specific revenue figures, estimating the Vault will account for 5 percent of the SI's online revenue in its first year.
While many magazine publishers used to allow only subscriber access to their online archives, going free has become something of an industry standard for consumer magazines. Time.com launched its own free digital archive in 2004. Other Time Inc. titles like People and Entertainment Weekly followed suit.
The Atlantic Monthly opened its archive to non-subscribers in January. Newsweek opened its archive last fall.
The New York Times made headlines in September when it ended its premium archive subscription program, TimesSelect, and opened up most of its archive to the public. According to the Times, search traffic to archive pages has more than doubled since doing so.
Consumer Reports, which surpassed 3 million paid online subscribers last fall, is one of the few major consumer magazines to succeed in charging for archive access.
Meet the Author
---