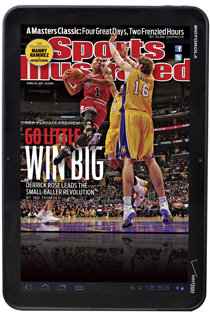 Sports Illustrated is now available (through the Android Marketplace) as an app on one of the priciest (and according to some reviews, one of the best) tablets, the Motorola Xoom. As part of Time Inc.'s "All Access" digital subscription plan, SI apps are available for the Samsung Galaxy, Motorola Xoom and Android smartphones.
Under the subscription plan, print and digital apps are available for $48 annually or $4.99 while a digital-only subscription is $3.99 per month. Current print subscribers have free access to the digital package for the duration of their term.
SI will also be available on the HP TouchPad upon its release later this year.
Time Inc. continues to shy away from Apple's subscription terms. Last year, SI was one of the first publishers to be turned away from the App Store over the magazine's subscription model, even though the magazine felt like it was following similar models of the Wall Street Journal and Wired by allowing print subscribers to access the iPad version free, with new readers buying the content a month at a time. Apple is said to have told SI to change the offer to single copy purchase.
In March, Maxim became the first magazine to launch an app for Xoom with a "Best of" compilation featuring cover subjects, jokes and "hometown hotties." The Maxim app is priced at $2.99.