Sporting News Mag Goes Monthly

Commemorates its 125th anniversary by moving from bi-weekly to monthly.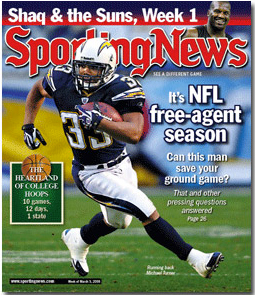 This story first appears on FOLIO: sister publication minonline.
As sports fans move to the real time reporting of the Internet to get their fix, so too has Sporting News. The venerable title is celebrating its 125th year in print, and does so by pulling its hard copy publishing schedule back from bi-weekly to monthly. The publication announced this week it would go to once a month beginning with the November 7 issue. It is merging with the Sporting News Yearbooks brand, but retains Sporting News as its title. The editorial content will shift towards sports previewing, focusing on pro, college and fantasy sports.
Read the rest of the story here. 
Meet the Author
---