Spin Partners with MySpace, Goes Digital

Publisher: Music, magazine industries in 'a state of turmoil.'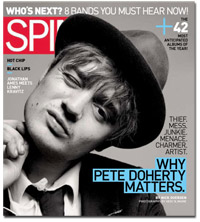 "The music and magazine industries are currently in a state of turmoil."
That's how Spin president and owner Tom Hartle characterizes the challenge facing music magazine publishers in 2008.
And, in what the publisher is calling a "first of its kind" partnership, Spin has teamed up with MySpace to launch a free digital edition of its magazine. The companies are using Texterity as its digital platform provider.
As is customary with digital editions of music magazines, readers can click on links to artists' MySpace profiles and to the iTunes store for digital downloads. Spin will offer free digital downloads of the magazine's next 12 issues via their official MySpace profile.
Hartle says the site has already seen a bump in page views—over 250,000 page views since its soft launch last week.
This is not the first time a music magazine has embraced digital technology to find new readers. In 2006, Fader magazine became the first magazine publisher to publish a digital magazine via iTunes.
Meet the Author
---