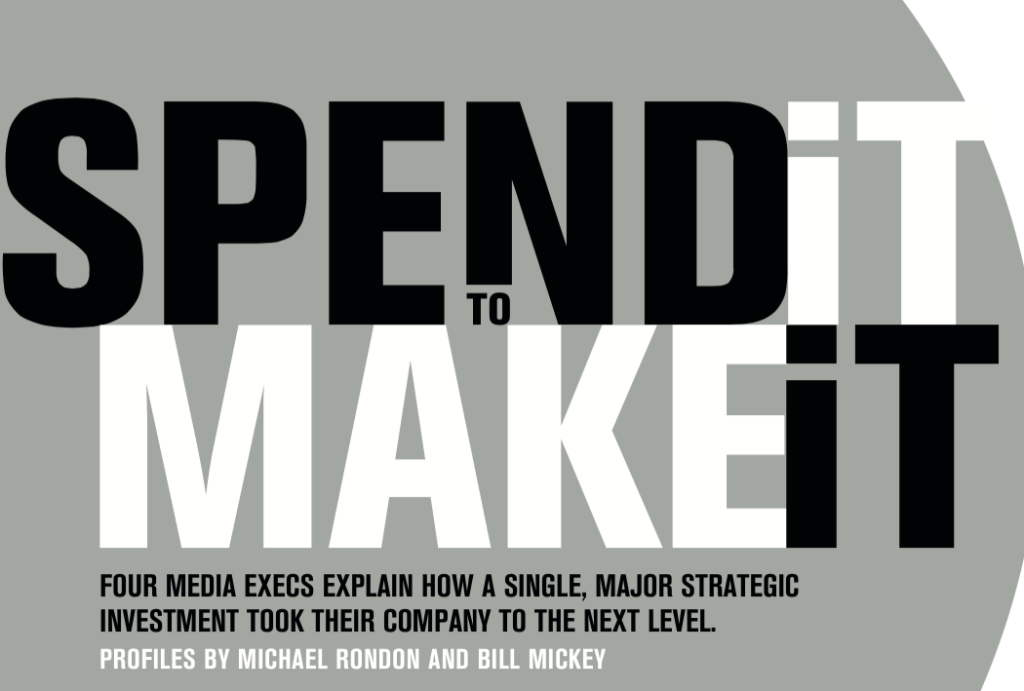 Sometimes it's a catch-22 situation. Most publishers recognize that they need to make a significant strategic change to either break out of what has become a constraining legacy operation or pivot into a new supplemental opportunity with better long-term upside. Yet this often requires a major capital investment to bring in the right talent, technology, or both. Sometimes an acquisition accomplishes that. Either way, the rate of change in the media industry is too fast to simply bootstrap your way into a major strategic shift with an already taxed staff that faces yet another daunting learning curve. Here, we profile four media companies that bit the bullet and committed to a strategy by putting their money where their mouth is. And yes, print is still a strategic option for some.
Hanley Wood Upends Its Model

Many in the residential construction industry were on the brink as
 the housing market collapsed in the
 late-2000s. Hanley Wood bet that things would be different on the other side—namely, that their customers would rely more on market research to inform their future investments.
The company was already involved in data, but only secondarily. It doubled-down as 2012 came to a close though, acquiring the market leader, Metrostudy, after a major capital infusion from its owners.
"Hanley Wood used to dominate the construction space by selling 
lots of ad pages or banners and buttons online or booth space at our trade shows, but we knew we had to lead with data in this chapter," says Peter Goldstone, CEO of Hanley Wood. "Metrostudy completely transformed our company."
While the purchase immediately strengthened the foothold in the market, the sale of Hanley Wood Exhibitions for $375 million in November allowed the company to "supercharge our strategy," Goldstone says. Investments in personnel, a va
riety of tech platforms and two plug-
in acquisitions quickly followed.

That rapid change meant the company needed a strong core to 
build out from—not just a solid cli
ent roster, but an internal structure 
that would support growth. Rather than retrofit Metrostudy into its existing 
model, Goldstone decided to do a 
reverse acquisition.
"We acquired Metrostudy, but assumed their model," he says. "We would typically buy a company and absorb them into the Hanley Wood model, because we were pretty good at what we were doing. On data, it was clear that Metrostudy had a better model. We had a national model, where we'd aggregate a lot of nation- al data. The secret sauce behind Metrostudy was that they had 30 regional directors. They were beating us 3-to-1 in market share because they had this local person who was the thought-leader, the chief economist and the go-to resource for anybody who wanted to understand the building activity in that location."
Metrostudy is now a $30-million business for Hanley Wood, up 50 percent from when it was acquired just over two years ago. And, now with a more diversified customer base and a membership model that leverages Hanley Wood's existing assets, it's running two to three years ahead of its operating plan.
Purch-asing Power

In an age where publishers are looking to diversify revenue, few companies have as defined a mission as Purch.
The publisher changed its name from
TechMedia Network in early 2014 in an
effort to clarify that objective. Purch (as 
in, purchase) aims to connect buyers with
products through its content. Sometimes 
that can mean linking to Amazon, but in
 more and more cases, the entire buying process is happening within the Purch ecosystem.
Its brands—primarily in the consumer tech space—were already recommending products, so ecommerce was a natural fit, says Antoine Boulin, Purch's president of media.
"We had already taken them from discovery to consideration to a decision," he says. "There was an expectation for us to complete the journey for them."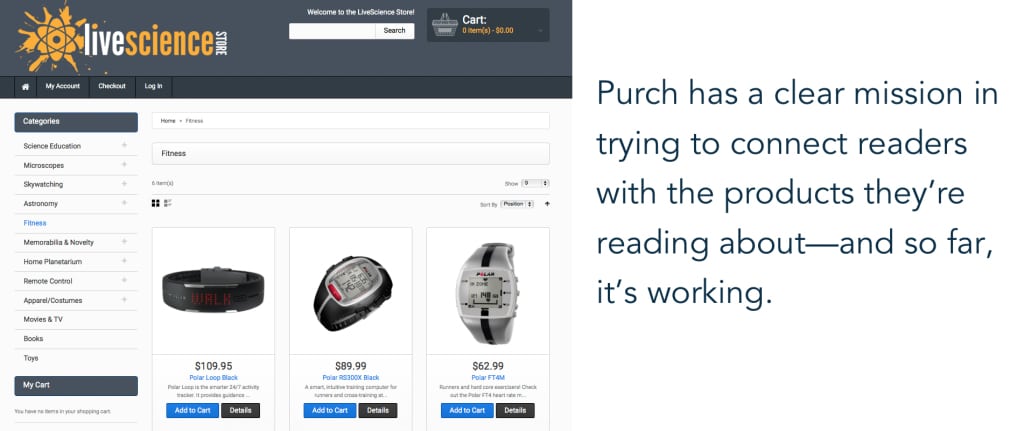 Purch had a few of the components in place after a small-scale ecommerce effort, but making large parts of its portfolio transactional has required a seven-figure investment in talent and technology. Getting ecommerce and editorial on the same page requires deft handling though, says Rob Britt, chief content officer at Purch.
"If people come in the door and expect they're going to get good advice on, say, fitness trackers, and we send them off somewhere where they have a lousy buying experience, we've ultimately failed them," he says. "Is that a responsibility of the editors? Of the ecommerce team? We think everybody should be paying attention to it. We're not writing content for the store, but we do feel an obligation to help the reader find the best solution."
The company is still ramping up for its big test in the fourth quarter buying season, but initial results have been positive, Boulin says. KPIs like fulfillment time (down to less than a day), customer complaint resolution (down to a few hours) and overall conversion rates are all trending positively. Plans are to roll out the platform on another one of its brands in the coming months, and as soon as 2016, the project will start realizing returns.
Slack Inc. Takes A Walk On the Wild Side

Physicians' Life—an upscale lifestyle title for doctors—will be launching in May. The difference here, however, is the magazine is backed by Slack Inc., a publisher that's noted for its professional medical media, not consumer titles. The new magazine is the company's first stab at lifestyle content and it's going in big.
Slack Inc.'s portfolio includes medical journals, newspapers, allied health books and digital products that reach a database of more than 400,000 physicians.
Eighteen months ago, senior leadership brain-
stormed new product ideas and CFO Darrell Blood, 
who's married to a doctor, floated the lifestyle concept. "It's an idea you don't always get from a CFO," says Peter Slack, president and CEO of Slack Inc. parent company Wyanoke Group. "And [Darrell] came to me about a publication that's different than anything else we do—life outside of the practice."
While the idea was intriguing, the company knew very little about that part of a physician's life from a product perspective. A consumer title w
ould require luxury brand sales expertise and agency 
contacts Slack Inc., which excels at selling to pharmaceutical companies, didn't have. Plus, lifestyle content o
on money, family, relationships, technology and travel 
was foreign to the professional medical publisher.
Even so, an initial survey conducted through GfK's Physician's Consulting Network helped define their 
target market—doctors are influencers, physically ac
tive and index higher on home ownership than national 
norms, for example.
From there, an editorial team was formed, including editorial director Beth Weinhouse, formerly deputy editor of Parenting. Ad sales were outsourced.
A prototype was tested with a back-up survey conducted by Kantar revealed that 71 percent of recipients were likely to read a publication like Physicians' Life. That, coupled with another mailing to 6,000 physicians in Slack Inc.'s internal database, which also showed a strong response, helped greenlight the launch.
Execs were confident enough to spend between $1 million and $2 million on the launch and set initial distribution at 341,000. Typical Slack Inc. products have a circulation between 5,000 and 60,000.
The May/June launch issue is planned to be 96 pages—with an ad page cap at 46. Newsstand distribution is not part of the plan. "We have a relationship through our professional publishing products to over 400,000 physicians," says Slack.
Using A Print Launch to Coalesce A Market Vertical

Smithsonian Enterprises is set to launch a new print quarterly called Smithsonian Journeys. The travel-themed title will be newsstand-only, but its main strategic purpose is to anchor a broader travel services strategy for the Smithsonian Institution.
Travel is a crowded market, especially the cultural, or experiential travel segments. And Condé Nast Traveler and Time Inc.'s Travel + Leisure recently poured more resources into their titles. Nevertheless, Steve Giannetti, chief revenue officer for Smithsonian Media, says the organization's existing travel assets were begging for a core product to make a travel vertical complete.
Smithsonian Enterprises already runs a tour operations group, also called Smithsonian Journeys, and travel content appears regularly in Smithsonian magazine and is a frequent exhibit theme in the museums.
"Our feeling was we were missing a product dedicated to travel," says Giannetti. "And we felt, looking at the market, that a high-quality, book-a-zine product would be a great launching point and a fulcrum for something we call our travel vertical."
The magazine's high cover price, $13.99, reflects a high production value and the primary revenue source. The title accepts advertising, but single-copy sales will ultimately prove the title's worth, Giannetti says. "The model here is not an ad-driven model, but having said that we do want a dual revenue stream."
If that sounds crazy given the years-long free fall of magazine sales at retail, remember that the one bright spot has been higher priced special issues. Giannetti is counting on the quarterly frequency, single-topic focus and high-end pricing to buck the broader newsstand trends.
More than 150,000 copies will be distributed to terminal newsstands, supermarkets and bookstores and the folio will crack 128 pages.
Each quarterly issue will revolve around a particular destination—one that is featured by the Smithsonian Journeys tour group. The first will be Paris, with the Inka Trail, the Silk Road and the waterways of Europe to follow. Victoria Pope, who joined Smithsonian Enterprises last fall from National Geographic, will head up the new title as editor-in-chief. Content and creative will be freelanced and existing operations and business development staff will help produce and sell the magazine.