The Traditional Publisher:
"All competition in this economy is significant from an advertising perspective. However, the Web audience in my opinion is not the print audience of Hot Rod. It is almost amusing that the only instances where online comes up in advertising meetings is when I meet with agencies who have a vested interest in online properties. Wholesale elimination of print advertising in exchange for lower cost-of-acquisition Web units is rare and when it occurs, the client soon returns recognizing the error." Jerry Pitt, publisher, Hot Rod/Car Craft, Source Interlink Media
The Online-Only Publisher:
"Year after year, in our space, print journalists have lost their influence over the hands-on automotive enthusiast. Niche automotive peer-to-peer Internet forums and Web sites have become the 'go-to' place for advice on products and services, not magazines. Parts manufacturers know that this is where target enthusiasts have migrated and parts manufacturers have finally accepted that the Internet is a democracy they cannot control. The reputation of a parts manufacturer can be bolstered or destroyed in this new democracy. With that said, it has become valuable for a manufacturer to see their product installed correctly, used by a 'real' enthusiast, and documented in a nice pictorial within an Internet forum." Jon Mikelonis, co-founder, FordMuscle.com.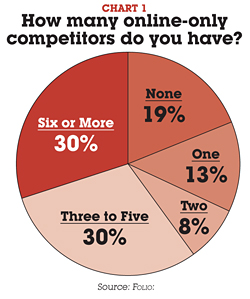 As traditional publishers and online-only startups square off, it's common to see two reactions: One, the traditional publisher dismissing the online-startup as a pipsqueak with no real brand recognition (even though the startup may have more total audience reach than the established player). Two, the online startup dismissing the print publisher as a dinosaur out of touch with its audience (even though the startup still struggles to monetize their digital business, something the "dinosaur" is increasingly succeeding at).
Online-only publishers are becoming a force to contend with. Perhaps even more dangerous is the growing number of traditional publishers with brand recognition and funding launching online-only products. In a recent FOLIO: survey of traditional magazine publishers about the competition they're seeing from online-only startups, 74 percent of the respondents said they launched at least one online-only product within the last two years [Chart 7].
The majority of publishers (31 percent) responding to the survey say they have seen three to five online-only competitors enter their market in the last five years, while 14 percent say they have seen three or more [Chart 2].
And while at first glance most publishers consider these online startups to be flyweights, with 48 percent estimating they generate $100,000 or less in annual revenue, look again. Fifty-two percent of respondents say these startups are generating $100,000 or more with 14 percent estimating their online competition generates more than $1 million [Chart 4].
In this article, FOLIO: looks at the evolving business model of the online-only publisher and how traditional publishers can both compete and partner with them.
Business Models:  Beyond Google AdSense
The typical online startup sees Google AdSense as the cornerstone of their revenue strategy. That's fine for a passion project, but not a business builder. As they mature, online-only publishers are chasing the same dollars today as traditional publishers: online advertising, Webinars, newsletters, lead generation and, increasingly, paid content. Eight-one percent of the traditional publishers who responded to the FOLIO: survey said that the primary revenue model for their online competitors is advertising, followed by lead generation and subscriptions [Chart 2].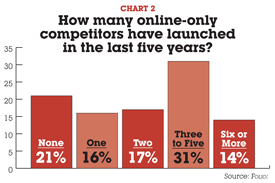 Ironically, as some traditional publishers exit print, many that started online-only are launching magazines. Some of these include salon b-to-b source BehindtheChair, niche music site Blurt, and of course, online wedding mecca, The Knot.
Founded in 1996, The Knot quickly grew to be the most popular online bridal site with more than 100 million monthly page views. In 2006, it debuted print magazine The Nest. In 2008, The Knot's revenue rose 5 percent to $103.9 million, driven by respective 15 percent and 8 percent gains in national and local online advertising. The Knot generated $54.4 million in online sponsorship and advertising, $10.4 million in registry services, $20.5 million in merchandise and $18.6 million in print (down 4.5 percent from 2007). The Knot's cost of revenue was $19.5 million in 2008, up 8.1 percent from 2007.
A smaller, but still successful niche online title, KnittersReview.com (which is for the knitting community what Cook's Illustrated is for chefs and foodies), has never had to solicit advertisers. Founder Clara Parkes says that "over time, through building lists and word of mouth, people came and asked to advertise with us."
Parkes, who was previously the first editor-at-large at United Business Media's Intelligent Enterprise and produced major comparison shopping Web site Tech Shopper, boasts an online opt-in newsletter and weekly online magazine. "It's a case where you do something smart and don't realize it," she says. "No one else is doing yarn reviews; and no one else was when I began."
Knitters Review sees an average of 2.8 million page views per month. In a good year, revenue is in the low six figures, "starting with a 1," says Parkes, whose "staff" is "1.5 people." The biggest expense, she says, is hosting a forum of about 70,000 members that requires a lot of bandwidth and storage—that cost accounts for about 10 percent of Knitters Review's total revenue. Its newsletter has four sponsors per week, and the Web site also allows for a site sponsor as well as a forum sponsor in order to give advertisers different opt-in price points.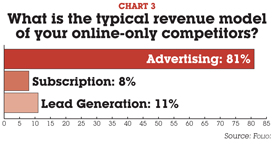 But not all are as lucky in advertising sponsorships as Parkes. Many online-only publishers are facing the same difficulties as traditional publishers in leveraging online advertising—and like traditional publishers, they're looking for other sources. STR/STR Global is a 25-year-old company that measures the business performances of hotels. In 2008, the company hired Jeff Higley, a former editor with Questex's Hotel and Motel Management, to launch HotelNewsNow.com.
"The one thing that we have that differentiates us is our data," says Higley, HNN's editorial director of digital media and director of communications. "To that degree, we are not a competitor since we supply to our so-called competitors. But our competitive set includes Hotels (Nielsen), Hotel and Motel Management (Questex), and Hotel Business (ICD Publications) and Hotel Interactive, which has a Web site and a conference."
HotelNewsNow.com is trying to break through to advertisers. "Our model is built on not only buying sponsorship ads on our site but packages tied into data and databases from the parent company," says Higley. "No one is on board yet but we expect a few packages to be sold over a few months or so. Our initial goal was that we would be flat after three years. We're beginning to think it might be a four- or five- year time span."
Others are pursuing paid content models. VIN (Veterinary Information Network) is a subscription-only site that co-founder Dr. Paul D. Pion insists is not a "dotcom." Pion started answering pet questions on AOL's pet care forum, a community started by one of his colleagues during the summer of 1990. As the forum gained momentum, it started bringing in more veterinarians and split from AOL to become its own online network.
The VIN model works with no sponsorship or advertising, only subscribers; it's membership-based. Currently, VIN has more than 42,000 members including about 26,000 veterinary colleagues around the world. VIN offers access to students and academics (about 16,000). The membership fee is $55 per month, in addition to other group membership offers.
The company has 80 employees. "We also have a team of more than 200 experts/consultants/editors that help to answer online medical message board questions," says Pion. "Our community and revenue has grown about 15 percent to 20 percent year-over-year. We've seen steady growth, with about 3,000 to 4,000 new members joining per year. Most of the income is reinvested into adding more features for the community."
   
A Long Way from Verticalnet: The Rise of GlobalSpec
Many online-only publishers have a surprisingly long pedigree. Many of those that were able to pilot their business through the dot.com boom and bust are still here today. Others peaked too soon, such as Verticalnet,  whose valuation soared to $12 billion in 2000, only to be sold for $15 million in 2007 to a subsidiary of an Italian cement company.
Meanwhile, GlobalSpec has succeeded where Verticalnet (arguably) did not. Launched in 1996, GlobalSpec has become a dominant player in its market and not just among the dot.coms. Originally positioned as a vertical search engine for the engineering market, the company has evolved into a multi-format, multi-product model that includes databases and e-mail newsletters with more than $50 million in estimated revenue.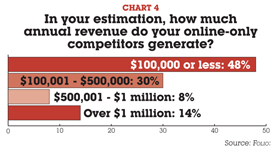 The product suite includes SpecSearch, a database of searchable OEM and distributor product catalogs; Engineering Web, a vertical search engine that indexes hundreds of millions of items of engineering content and more than 60 e-mail newsletters with more than 2 million subscribers. Since 2000, GlobalSpec has grown at a compound annual growth rate in excess of 50 percent. "Our typical customer will spend between $10,000 and upwards of $1 million," says CEO Jeff Killeen. "We have many hundred thousand dollar-plus relationships."
Another area in which GlobalSpec has succeeded where other publishers have not is registered users (which numbered 5 million as of January 2009, growing at a rate of 80,000 per month). "One of our fundamental business anchors is the registered community base," says Killeen. "It goes without saying how hard that is because nobody wants to register for anything. The value exchange has to be pretty compelling. Our registered user foundation has allowed us to create derivative e-media products with a level of cost efficiency and speed that otherwise would be difficult to do."
Killeen sees three primary advantages with the GlobalSpec model: One, rapid product development cycles that takes weeks and months, not quarters and years. Two, the cost of the circulation build effectively goes to zero. "Our largest newsletters have circulation in excess of 100,000, which parallels or exceeds the trade magazines," Killeen says.
Three, is the cost of primary edit content. "The toughest thing, whether traditional or digital, is the cost of circulation building and editorial," says Killeen. "We can launch a title by leveraging what we know about the community from our SpecSearch and Engineering databases and asking them to incrementally opt-in. In three years, we've developed just about two million subscribers and the cost of circulation acquisition is practically zero."
GlobalSpec builds new products from existing ones, such as a series of alerts that continuously monitor 132 topics for more than 1 million subscribers, as well as a social network that is drawing 300,000 unique visitors per month (with each visitor averaging 30 to 40 minutes per visit). "These are very engaged, peer-to-peer technical conversations," says Killeen. "The outgrowth of that is we can summarize and publish some of the best threads every night."
GlobalSpec is able to leverage its search and registration businesses into real lead generation. "We can develop deep reader profiles, especially on newsletter readers, that we can match to clickstream behaviors, " says Killeen. "We can offer that to the sell-side of the manufacturing community, not in the form of clicks or gross traffic but intelligence-rich, contactable sales leads. A lot of people have tried to create registered user e-businesses and have given up. Once we reached scale, which for us was 1 million registered users, I was convinced the model was extensible and explosive."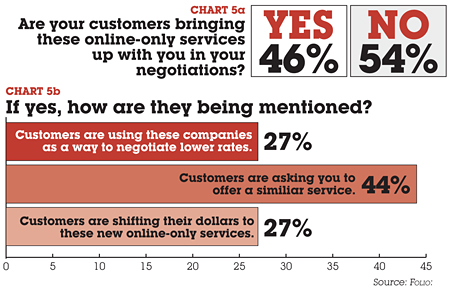 Paying for Content?
The Wild, Wild Web has looser standards for both traditional and online publishers. But some online startups say it's not much different from what traditional publishers have done all along. And as the line blurs between standalone edit and custom edit for hard-pressed publishers, those startups may be right.
"I made my career in the boating magazine publishing business and I knew that what sold boats were boat tests published in the boating magazines," says Jeff Hammond, co-founder and president of BoatTEST.com, a site that offers boat reviews and videos. "Ads really didn't sell boats, they just created brand awareness. So boat builders were basically buying ads to make sure the magazines wrote about their boats, which they did. The business model at BoatTEST.com is simply to combine the old publishing concept of advertorial with boat tests and put it on the Internet where everyone would be doing their research. We charge for content. It's what the boating magazines have been doing for 20 years."
Are Online Costs Really Lower?
Lower cost is often cited as an advantage of the online-only publisher. And to a degree, that's true. Distribution costs (postage, mailing, production) are certainly lower, but developing the infrastructure and a Web-savvy staff can be expensive.
According to FOLIO:'s 2009 B-to-B CEO survey, e-media accounted for the largest operating expense increase among b-to-b publishers in 2008, up 6 percent (the next closest was distribution, up 5.1 percent).
On average, the majority of respondents (20 percent) spent between $10,000 and $24,999 on new technology last year (14 percent spent $100,000-$249,000, while just 2 percent spent $1 million or more). 
Where did that money go? Thirty-two percent of respondents say their Web site was their largest technological investment last year, followed by 17 percent who say it was the CMS. 
Online-only publishers contend with many of the same costs but maybe not the same expectations (at least at first). "We were in a unique position in that our company wanted to do it right, and as a startup told me not to worry about revenue the first year; worry about building the product," says Higley. "For the actual costs of building the site itself, plus the back-end stuff, I would say the startup cost alone was about 70 percent of what it would have been for a print product from a start-up perspective [including back-of-house content management systems, and personnel—three on the edit side, one public relations person and one sales representative, etc.]"
Demand Media, founded in 2006 by Richard Rosenblatt, former CEO of Intermix Media (the company behind MySpace), and private equity veteran Shawn Colo, offers a network of more than 60 general and special interest sites such as eHow.com and Cracked.com, which draw upwards of 60 million unique visitors per month by leveraging user-generated content including articles and video. Demand generates more than $150 million in estimated revenue and is one of the largest suppliers of videos to YouTube, with more than 150,000 videos generating more than 44 million views.
However, while Demand has successfully leveraged a user-generated model, it's not necessarily a cheap one. Demand has reportedly paid more than $12 million to its network of text and video producers (including more than $20,000 to one video producer). For text content, Demand pays on performance (reads and traffic).
In 2000, BoatTEST.com went live with 100 boat tests and about 70 videos; today, the site has grown to more than 1,000 boat tests, 3,000 videos and 500,000 unique monthly visitors.
But co-founder Hammond, who also founded Power & Motoryacht and served as publisher of Boating and chief editor of Motorboating and Sailing, says running an online video business isn't necessarily cheaper than print. "The magazine's direct expense is limited to the printing, paper and postage," he says. "On the other hand, when we sell a boat test, we must send a videographer and a testing captain to a distant location, hire a local helicopter, rent a car, pay for food and hotel room, then have scripts written, make voice over for the video, have the video edited, encode the video, pay for hosting it, pay for bandwidth to stream it, write an article, and fill in lots of data fields in our layout at accompanies the video, because the video is not enough. All of this is costly and labor intensive. It is essentially the job of a production house.  Believe me, we have tried every cost saving trick in the book, and they don't work. Our direct expense is huge and as a result our charges are also higher than what a magazine needs to cover."
Loud3r acts as a search engine for niche enthusiast markets, offering a network of 136 different sites that serve as content aggregators for pursuits such as music, mountain biking and gardening. Readers can access the main Loud3r site, or go directly to their niche.
"When we started the company in 2007, it cost $1,500 to launch a new site," says co-founder Lowell Goss. "In the online world, that was pretty expensive. But compared to a traditional publisher, or even an online publisher, that's nothing. Every three months or so we cut that cost in half. We went from $1,500 to $750 to $350 to $125 and we are close to cutting that per-title cost even further."
In the next three months, Loud3r plans on rolling out a self-serve site maker product that allows users to set up and run their own niche interest site for a $25 startup fee. "This will pull in all relevant content and allow you to add your own content and control the design," says Goss. "You can look at it as a blog site but with a real content engine behind it. That's a big part of the future for any publisher—you produce not only content but point of view and point people to great stuff across the Web in addition to what you're generating."
And as traditional publishers are finding out, the costs of digital are largely focused on people (who often command a higher rate than equivalent positions in traditional media). "We're an intellectual capital business," says Killeen, "so costs are centered around expert headcount." The costs of GlobalSpec's business fall into two camps: talent (editors) and applied technology, which includes business-domain experts, and engineers.