Special Report: Online-Only Publishers

Part II
The Rise (and Potential Fall) of the Aggregators
News may be a commodity online but it still draws the eyeballs, which in turn drive the ad dollars. Aggregators are often the bane of established publishers. Launched for little cost, they simply pull together stories from around the Web (sometimes with a pithy comment or blog with it).
While the publisher is investing in infrastructure and staff to go out and find the news, these sites are simply pulling it together. Although a publisher's Web traffic can boom when an aggregator picks up the story, the aggregator often gets the credit too.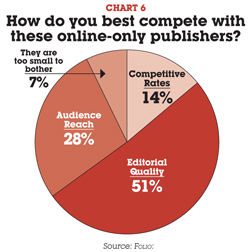 Increasingly, aggregators are being launched by former editors and publishers who bring a more sophisticated approach to the coverage (as well as relationships with advertisers in that market). Last summer, former PC World editor-in-chief Harry McCracken (a 2008 recipient of American Business Media's Timothy White Award for
Editorial Integrity) left IDG to start technology news site
Technologizer, launched in partnership with blog network Federated Media, which also handles technology-focused sites like TechCrunch, GigaOM and Dooce.
Former Penton Media vice president of new media Prescott Shibles is taking a page out of the Harry McCracken playbook by launching his own startup: Vital Business Media. Shibles plans to launch Vital Business Media's first vertical online before the end of this year, he says.
Comparing the forthcoming site to DailyCandy.com and personalized music site Pandora.com, Shibles says his site will serve as an aggregator of business-related news and feature original video content.
Like DailyCandy, Shibles will require users to fill out a registration form with profile data which, in turn, will help him provide them with personalized business content and advertising. "I see this as an opportunity to go beyond lead
generation to what I call lead cultivating and nurturing," he says.
Even that most prominent representative of print, former Vanity Fair and New Yorker editor Tina Brown, teamed with Interactive Corp. honcho Barry Diller to launch TheDailyBeast.com. Meanwhile, The Huffington Post,
arguably the most successful news aggregator, has announced it is looking to develop its own news-breaking unit.
But Where's The Money?
Beyond the heavyweights like Huffington Post, many smaller aggregators struggle with generating significant online revenue.
"News aggregators are interesting, and they could potentially drive a lot of traffic, but I've yet to see one make a dent in advertising," wrote one commentator on Foliomag.com in response to the launch of Vital Business
Media. "Look at Loud3r.com, which claims more than 250,000 uniques a month. They have more than 50 aggregator Web sites in their portfolio, and I have not yet seen advertising on one of them. One of the potential problems [with aggregators] is that the content they are aggregating is not their own, and advertisers might be a little skittish about attaching their brand to a vertical that basically takes other content from original content providers and calls it their own."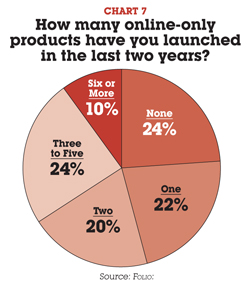 Loud3r's current revenue model focuses on automated monetization with Google and working with specialty ad networks but the company is looking to other opportunities. "We don't make multiple millions of dollars at this point but we really only started trying to get revenue three months
ago," says Goss. "We expect to be profitable in the next three to six months. Our aim is seeking investment to let us scale up to 100,000 sites."
Relying on Google while trying to attract direct advertising is a challenge. "I don't think that's the future or singular future for us or online publishing," says Goss. "When you can pull together 300,000 dedicated enthusiasts, there's a market for small businesses to come and purchase an ad. If you're someone who runs
bicycling tours, the ability to market directly to thousands of people is valuable but it's a hard audience to reach online."
Loud3r is also looking to its audience for revenue ideas. The network is developing a partnership model for writers and bloggers to co-own sites. "That pool of people will come up with creative ideas to monetize and we can share a piece of that," says Goss.
How Traditionals Can Compete
Competing with online-only startups has some publishers rethinking their entire approach.
The financial situation at Playboy hasn't been pretty: The company reported a year-end net loss of $156.1 million in 2008, compared to a net gain of $4.9 million during 2007. Year-end revenue from Playboy's publishing division was $84.5 million, down from $93.8 million in 2007, while online revenue dropped 24 percent to $48.4 million.
Playboy's solution? Clean up Playboy.com in hopes of attracting advertisers. The magazine's Web site announced a redesign that will offer "a greater value proposition for advertisers, complement Playboy magazine, and
firmly position Playboy.com as the number one entertainment men's site," according to Playboy Digital division vice president and associate publisher John Lumpkin.
According to the FOLIO: survey [Chart 6], editorial quality and audience reach are the top ways traditional publishers are competing with online-only publishers. Meanwhile, just 14 percent of traditional publishers are trying to offer competitive rates with startups, while 7 percent say the competition is too small to bother.  
NewBay Media has seen a number of independents launch sites into various vertical markets it
serves, including video production and systems integration.
"Some are significant, many aren't," says CEO Steve Palm. "Those that are significant have created new business models relying on blogs, user generated content and unique operating structures that are, in general, low cost. Those that have accumulated a sizable audience have become real competitors for online advertising. We are actively looking at these sites for two reasons. First, to learn. These are dynamic, low cost ventures that, in some cases, are doing a great job of aggregating content, visitors and advertising. Second, we want to be competitive on all fronts—online in particular. Some of these Web only initiatives
have done a better job of building audience—we need to recognize this and react."
While some traditional publishers like NewBay are using online-only competition as a means to expand their own brand, the FOLIO: survey also shows that a quarter of publishers have launched no online-only products in the last two years. As part of the NewBay's response, it redesigned all of its sites in the last 12 months with the goal of increasing user involvement and content creation, and building community.  "We are better packaging our multimedia reach, to offer a real unique benefit to our advertisers," says Palm. "The fact is that online works for some things, but not for everything."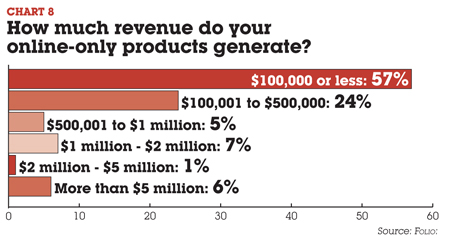 Interweave Press, a unit of Aspire Media that targets the craft community, sees about 15 percent of its revenue come from online sales. "I look at our online strategy as attraction, conversion (registered users),
retention, and use Web and e-mail for selling," says Aspire CEO Clay Hall. "When I think about pure plays, they have done a good job in building communities. The difficulty is that they have nothing to sell," he says. Hall makes an analogy to Interstate 95. "While pure plays may see more traffic on all of I-95, companies like Aspire are like the New Jersey Turnpike portion of the highway, using tollbooths
to allow traffic to pay out. Our goal isn't to just amass enthusiasts, but to convert them and to monetize them. A company like us that has 3,000 skews through e-books, magazines, patterns, projects, etc. We have a bigger opportunity than the pure play that offers nothing but a free ride."
The b-to-b side often sees more direct competition from online-only startups. "There has definitely been some competition that's come into our space recently," says Paul Miller, CEO of UBM's TechInsights, who cites SupplyFrame (a vertical search engine for electronic components) and Electropages, a U.K.-based press release platform for the electronics industry, as two examples. "The interesting thing is that this is like déjà vu all over and similar to 1999. At that time, companies like PartMiner and ChipCenter had similar models that let users learn about, find and buy products. But 1999 was
too early. Now is about the right time for this Web technology."
Miller
says startups are beginning to take the place of old print competitors.
"Advertisers are mentioning SupplyFrame," he says. "None are the first
name to come off of their lips but they certainly come up in terms of
lead generation, quality of leads and volume. SupplyFrame recently
announced that it is forming a media division, so we expect it to
become a more vocal competitor. They hired a few ex-Reed guys like John
Shermer, so I would expect them to offer some competition."
While
TechInsights has been online for 15 years, the company is ramping up
lead generation and custom Web solutions for clients such as Intel and
Microchip.
"We've definitely moved into the marketing services
area," says Miller. "We just signed a relationship with Marketing
Sherpa to help companies build better landing pages for their campaigns
and consult with companies on lead gen. We're moving into developing
best practices for our customers. We will definitely respond to new
competitors by honing our skills in terms of helping people search for
product, which we took for granted a bit until we saw new players come
in."
Online revenue continues to be a larger and larger slice of
TechInsight's business. "In the media business, we have the consulting
side and the media side, which are about 50-50 in revenue," says
Miller. "In the media half, we think the online business will be 60
percent of revenue in 2009 compared to 40 percent in 2008."
TechInsights
generates about 1 million uniques per month across all its products,
with 4.5 million monthly page views. "I'd like to monetize our audience
independent of ad revenue streams for things like education, market
intelligence, data and events," says Miller. "Currently, we generate
around $15 million per year through this, and I'd like to sell more.
I'm not on the bandwagon to charge for news, but our audience will pay
for certain things online."
Partnerships Grow Between Dot.coms and Traditional Publishers, Even with Direct Competitors
The
relationship between traditional publishers and online startups (as
well as individual bloggers) has often been contentious. Last summer,
Steven Weintraub, editor-in-chief of movie blog Collider.com, called
for a boycott on providing links to Variety.com and
HollywoodReporter.com, claiming the magazines took news from the blogs
(specifically that Variety picked up what he says was his scoop about a
sequel to the movie "300.")
While acknowledging that much of
the news found on the blogs comes from traditional sources such as
Variety and Hollywood Reporter, MovieBlog.com wrote: "So here's an
ironic thing. Many traditional media outlets will often belittle and
criticize the new emerging online movie community for not having
explicit codes of etiquette and conduct…and yet now many of them are
engaging in the violation of this most simple and important rule of
giving credit."
Many of the blogs supporting the comment were
filled with comments from readers talking about the irrelevance of big
media, but some other bloggers weren't so sure. "Movie sites have been
ripping off Variety and Hollywood Reporter for well over a decade now,"
wrote FilmRot. "How many articles a day do you think get quoted,
reprinted in whole, unattributed or attributed without a link from the
trades?"
Today, both traditional publishers and online startups
seem much more likely to see out partnerships (even with properties
that could be considered competitive). Last fall, Rodale struck a
partnership with Glam Media that will provide syndicated content from
long-standing Rodale brands such as Women's Health and Prevention on
Glam Health.
YouTube actively solicits partnerships with larger
publishers, from brands as large as Playboy and Sports Illustrated to
smaller titles such as Nylon. Source Interlink launched a premium
content partnership with a video network called the Hot Rod Channel. In
March, Conde Nast struck a content distribution agreement with online
video hub Hulu.com to distribute video content from sites such as
Style.com, epicurious.com, Wired.com and Vogue.TV on Hulu and through
partners such as AOL, MSN, MySpace and Yahoo.
Even ESPN.com,
which is known more for acquiring (both products and talent) than
partnering, has teamed with niche dot.coms such as Sherdog, an online
news site dedicated to the growing sport of mixed martial arts.
While
GlobalSpec might be considered core competition of traditional
publishers such as Penton, PennWell and McGraw-Hill, those companies
are actually partners, with GlobalSpec offering its search services
directly on many magazine Web sites. "Look at us and Penton—we should
be classic competitors and in certain measures we are," says Killeen.
"We're both seeking to build readerships in the design engineering
sector. We're both seeking a share of advertising from that sector. But
we work with Penton's Machine Design. That makes their properties
traffic magnets and more valuable to readers and traffic magnets. It
gives us branding recognition and gives them product value add that
they otherwise wouldn't be able to offer."
GlobalSpec also
hosts, indexes and republishes content for companies like McGraw-Hill
and creates blogs and expert content for association publisher IEEE.
"They see us as a place to get content—such as the McGraw-Hill
Engineering Dictionary—indexed, like a mass market search engine but for their niche."
For publishers like Penton, such a partnership is about reach and economics. "GlobalSpec has a unique position in the marketplace and we've put together a partnership that gives our site their live data and search functions," says vice president Bob McCarther, who oversees titles such as Machine Design and Electronic Design. "This provides us with the opportunity to have one-stop access to both a content-rich environment and a product-rich environment and helps engineers to sort through a tremendous number of vendors. Would I like to start a GlobalSpec? Sure. If I had millions of dollars and five years to do it, that'd be great. But the reality is we can't do that. It would take a tremendous adjustment and ramp-up time to get anywhere near where they are. My opinion is any individual who chooses one way into a market is limiting their opportunities. They get content from us, we get data and search from them. It works both ways, very well."
Teaming Up For Sales
While some publishers such as Time Inc. and Forbes have launched their own proprietary ad networks as an alternative to larger, third party ad networks, other traditional publishers are launching their own ad networks that offer sites and bloggers a chance to get some additional revenue, while being under the publisher's brand umbrella and infrastructure.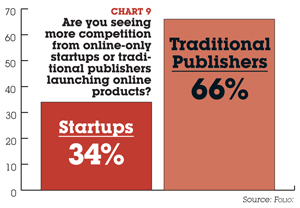 In September 2008, Decatur, Georgia-based Paste launched Paste Nation, an online ad network featuring 14 different "tastemaker" sites covering music, film and culture, including blogs such as Brooklyn Vegan, PopMatters and the Web site for Seattle's KEXP radio station. The network averages about 4.3 million visitors per month and 28 million page views, according to publisher Nick Purdy.
"Volume matters. To sell to big advertisers, who will be willing to pay more, you need salespeople to do that—it's an agency level sale," says Purdy. "Most indie music Web sites are selling low CPM to mostly endemic advertisers. There is a lot more revenue potential in non-endemic advertisers. We have built that because of our print property. The revenue potential on the Web is not as much as in print on a CPM basis. Having a lot more inventory to sell makes a huge difference. It made sense for us to recruit sites that fit our demographic and say to advertisers, if you think Paste is a good place for your money, we can confidently say these Web sites are also a good place for your money."
It's a mutually beneficial relationship. "Members don't have the revenue to build out a national sales team and our Web site itself wouldn't have enough traffic on its own to access certain campaigns," says Purdy. "But put it all together and it makes sense. The thing that's great for the advertisers is they're able to buy sites that can really move the needle and buy at scale."
Paste takes a 20 percent commission on each sale. While Purdy won't say how much revenue the network generates for Paste, he does say it has drawn new advertisers such as Google, Dell, Microsoft and Apple to Paste's core print and online products. 
Another relationship that has the potential to be mutually beneficial is in enthusiast titles. Parkes writes a column for Interweave's print magazine, Knit, putting her directly in the line of fire when it comes to a traditional publisher in the crafts space.
So, does collaboration yield future partnerships? "Vaguely speaking, we have had an ongoing conversation with Interweave," says Parkes. "They were looking to get into the online market, but the challenge for them will be that they have an overhead requiring much more revenue to make a product viable."
The biggest caution with partnering with Interweave, Parkes says, is her status as an independent, unbiased third party. "Being affiliated with a big company could jeopardize this," Parker says. If this partnership left a bad taste in her readers' mouths, that could mean zero value for both parties.
While Knitters Review may not be the cornerstone to Aspire's online business, Hall says that his company is "on the acquisition trail" for suitable dotcoms, evidenced by the recent acquisition of Web site CrochetMe.com from developer Kim Werker, former editor of Interweave Crochet, in December 2008. Look for more partnerships between traditional and online-only publishers to become outright acquisitions.
Meet the Author
---