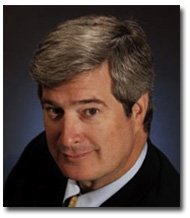 Forbes today said Jim Spanfeller will be leaving as president and CEO of Forbes.com. He will remain with the company through the end of August.
I spoke with Spanfeller this afternoon and he denied reports that his leaving was pressured by Forbes investor Elevation Partners. "That's just crappy reporting," he said during a phone conversation. "Unless Elevation has the ability to stick thoughts and actions in my head, they had nothing to do with my decision to move on."
Spanfeller also denied reports that his departure had to do with declining traffic at Forbes.com. "That's even shittier reporting," he said. "Anyone with any tenure in the online space knows that different sources you go to for traffic numbers produce different results, and that's problematic at best. Even if one says we're down slightly over a couple of months, the truth is that Forbes.com is up from half a million uniques in 2001 to 18 million to 20 million today."
Spanfeller told me he plans to launch a media management firm later this year after he leaves Forbes. "In this move from analog to digital, not many companies have cracked the code in the digital space," he said. "It seems to me there is a window—maybe a five-year window—to go to traditional publishers and help them grow online."
Spanfeller said he and his (eventual) team will aim to "not consult for, but manage" publishers' Web sites as standalone businesses. "We'll take what is presumably a less worthwhile portion of their business and turn it into a profitable product that has a future," he said. "We'll train and put management in place, then turn the keys back to the publishers.
"Publishers have all the data online, and they need to follow it," he continued. "They have the great luxury of knowing what's being read, when and how soon after you post it. It's foolish not to look at those numbers and put them to work."
In exchange for his services, Spanfeller said he'd ask for a percentage of the expense structure as a management fee and take an equity stake in the Web portion of the business.
"Publishers who don't have a large business online yet will benefit from this model," he said. "I'll work to solve a need and will be compensated if I succeed."