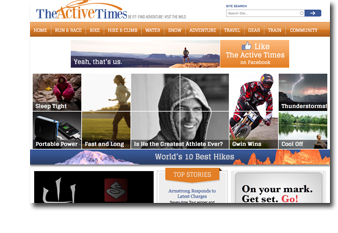 Spanfeller Media, publisher of recipe site TheDailyMeal.com, has flipped the switch on its second website, TheActiveTimes.com, which targets adventure sports and active lifestyle enthusiasts. So far, the company is continuing its strategy of broad, multichannel content to drive scale across a market segment.
Late last year, the site had been under development with the working title of eKADIA, but that moniker was clumsy with SEO and didn't stick with consumers. "We liked it, but found out that no one got it immediately and people weren't spelling it right," says Jim Spanfeller, the company's founder.
The week-old site, headed up by editorial director John Rasmus, is staffed by 6 full-timers and relies on a network of, for now, about 60 special contributors for photos and articles. By contrast, The Daily Meal has about 20 staffers and 600 special contributors. The Active Times will also use the same content partnership model that its sister site has—as well as encourage users to upload their own content.
While the active lifestyle segment is well represented across the web, Spanfeller says none of them aspire to The Active Times' scale. "There are lots of sites out there, but none of them have any scale," he says. "And none of them have what we're trying to do, which is go broad and deep."
Additionally, the site is employing a geo-targeting feature through a partnership with Gathering Point that will locate nearby events, routes and fitness centers related to a particular activity.
Traffic expectations are high, Spanfeller is forecasting about 1 million monthly uniques by the August/September timeframe. After about a year and a half, The Daily Meal now claims 3 million monthly uniques.