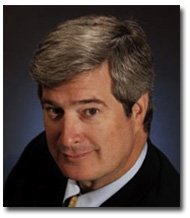 UPDATE: Spanfeller Denies Being Pushed Out
Forbes.com president and CEO Jim Spanfeller is stepping down to focus on setting up his own media management company.
According to a company statement, Spanfeller [pictured] will stay on through a transition period through Labor Day.
Spanfeller was not immediately available for comment.
Forbes claims Forbes.com is the largest business Web site in the world and that it drives 40 million unique visitors per month across Forbes.com, ForbesTraveler.com, Investopoedia.com, RealClearPolitics.com, RealClearMarkets.com, Real Clear Sports, Forbes Business and Finance Blog Network.
However, a report from AOL's Daily Finance says Forbes traffic has fallen recently, with WSJ.com closing the gap, and that some insiders believe Spanfeller's departure was spurred by pressure from Elevation Partners, the private equity group that purchased a minority stake in Forbes three years ago. 
Check back to FOLIOmag.com for updates to this story.