Southern Living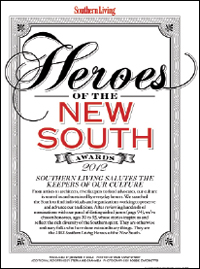 Eddie Winner: Best Single Article, Consumer, Regional
Lindsay Bierman, editor-in-chief of Southern Living, can't recall exactly when he came up with the idea for the "Heroes of the New South Awards," but as soon as he was put in charge of the magazine in 2010, he knew he wanted to bring "an element of surprise."
The idea was unlike anything Southern Living had undertaken, he says, a step out from the decorating, cooking and gardening they normally do.
"We had the idea, in our celebrity-obsessed culture, of celebrating ordinary people who are doing extraordinary things," Bierman says. "These are people who are preserving important parts of Southern culture. And I consider us to be a keeper of our culture."
Bierman put out the call for nominations to the network of readers and contributors, getting hundreds in return. His editorial staff pared the list down to 40 and sent the finalists to a panel of jurors.
The four jurors, each a noted expert in their own aspect of Southern culture, were key to the piece's success, Bierman says.
The response was overwhelmingly positive. Bierman says Southern Living now has plans to expand the feature digitally and possibly turn it into an event for 2013.
"It was one way to turn the spotlight onto people who were likely to be readers themselves," he says. "The awards idea is nothing new, but I like giving it that twist."
Meet the Author
---