Southern Living Partners Up for New Vertical

Southern Weddings to provide print, digital content for SL's bridal channel.
Southern Living has produced bridal content before, but Time Inc.'s regional lifestyle brand chose to partner with a small independent publisher for deeper penetration into the vertical.
Building on special issue publications (SIPs) that it's released on its own in the last two years, the magazine has enlisted Southern Weddings—a once-a-year publication with a 50,000 circulation—to provide exclusive content for its website and a new in-book section that will go out to targeted subscribers three times a year.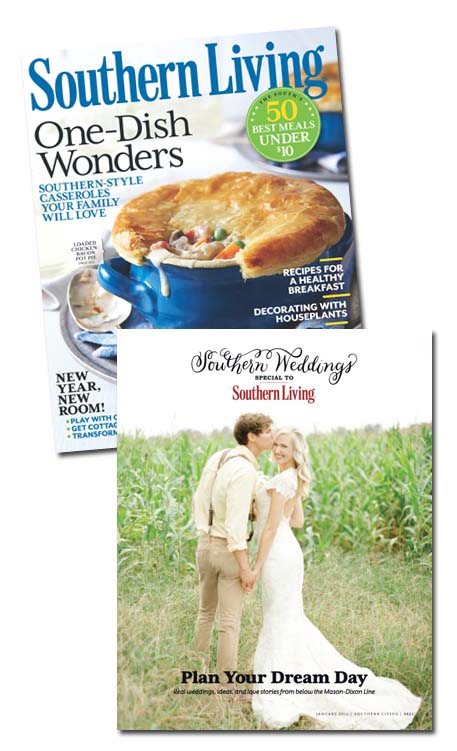 The new in-book section—which is included in the January issue—replaces the SIPs that have "done well" on the newsstand, according to Lindsay Bierman, editor of Southern Living, but which limited options. Typical SIPs sold about 100,000 single copies—far short of the 400,000 distribution the in-book section will have.
"There are costs associated with creating those so we were looking at other ways to put [wedding content] out there," Bierman says. "There's a lot of competition on the newsstands between even our own [SIPs] because we publish 12 or 13 a year. [And] because there are so many of them, we were only able to do [weddings] once a year. Having it in-book not only allows us to reach a much larger segment of the target audience, but allows us to do it more than once a year."
Southern Weddings will provide almost all of the bridal content in the new sections, and while Bierman stresses that they'll have a lot of editorial latitude, Southern Living has final say. Changes to the first issue were minimal, he says: "The aesthetic sensibility between their team and ours was so great."
The sides will partner on sales and marketing as well, though financial terms aren't being disclosed. Other elements, like a wedding workshop and Southern Living's Hotel Collection, are also being incorporated.
Bierman says this is the first partnership of its kind for Southern Living, but he's open to similar arrangements in the future. None are imminent though, he adds.
"We're always looking for ways to expand the brand's footprint. Whether that's through partnerships or acquisitions or any other opportunities that become available, we'll consider everything," he says. "As of right now, this is a unique example and one that's working really well for us."
Meet the Author
---