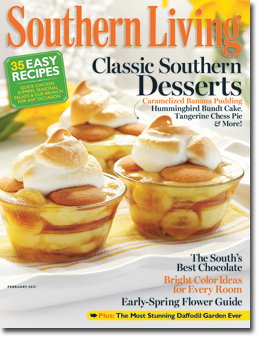 Time Inc.'s Southern Living looks to enhance its digital presence through a content partnership with country music broadcaster CMT. Southernliving.com will generate coverage around CMT's Music Awards and other events, while CMT will cross-promote the magazine's content through its own website, social media channels (a combined following of 1.5 million on Twitter and Facebook) and television shows.
Greg Schumann, publisher of Southern Living, says that company research showed the magazine's consumers are 36 percent more likely to attend a country music event than the general population. Going forward with this knowledge, the Southern Living team approached CMT about a possible partnership.
"We looked at this as an interesting way in a logical new area for the brand to further establish itself," Schumann tells FOLIO:. "The partnership is one that print implications are secondary, and digital implications are primary. Our brand has been very print-centric historically."
Southern Living's reader demographic ranges from 18- to 65-years-old. "There are significant constituencies in the Boomer demographic, the Gen X demographic and the Gen Y demographic. We have to think about that as a brand and who and how we choose to form partnerships with. CMT will appeal to all three, but it will have a little more appeal to a younger side," says Schumann.
CMT content may be integrated into Southern Living's print pages in regular features such as its "Paper Napkin" column, but its roots will remain in digital.
"The primary driver is the content exchange and from our standpoint to CMT, our media tastes and our strength. What we're getting reciprocated from CMT is the opportunity to introduce and reinforce our brand across their platforms. Their digital platforms, as well as the broadcast factor, were particularly appealing," says Schumann.
As of right now, the partnership is purely content-based. Schumann sees eventual opportunities in cross-brand advertising and sharing ad partners, but he views additional monetization as the second phase of the partnership.
Southern Living's Web traffic is up 41 percent YOY to 1.17 million unique visitors, and page views increased 26 percent YOY to 13.8 million views, per comScore. According to publisher estimates, the magazine is up almost five percent in February ad pages from February 2011.