Sources: RDA to Miss Debt Payment

Failure to make payment would result in penalties.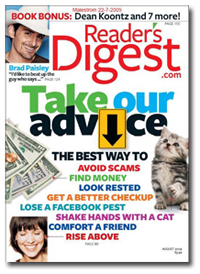 UPDATE: Reader's Digest to File for Chap. 11
Pleasantville, New York-based Reader's Digest Association may be on the brink of missing a loan payment.
Multiple sources have told FOLIO: that RDA is likely not to make an interest payment on its senior subordinate notes that is due next week. When contacted by FOLIO:, an RDA spokesperson said the company doesn't comment on rumors.
"If they miss a payment that will likely trigger some event causing them to be on a watch list (in case they miss again) and will probably cause their interest payment percentage to increase substantially as a penalty for not making the payment," one industry observer said.
A publisher that misses a debt payment is often likely to miss subsequent payments, the source said.
As of March 31, RDA carried a consolidated debt of approximately $2.17 billion—about $600 million of which is in 9 percent senior subordinate notes which mature in February 2017. According to its most recent 10-Q report with the Securities and Exchange Commission, RDA's consolidated EBITDA was $281.7 million—up from $257.8 million through the end of 2008.
In a supplemental 3Q filing, the company said its leverage ratio (debt divided by EBITDA) was 7.73 to 1, compared to its required ratio of 8.75 to 1.
In March, RDA hired law firm Kirkland & Ellis and financial adviser Miller Buckfire to "assist the company in staying ahead of the problems in the market by exploring strategic initiatives, including, but not limited to, raising additional capital and easing our debt burden." At the time, RDA CEO Mary Berner vehemently denied reports that the company might file for bankruptcy protection, saying the hirings help the company "be proactive in this fast-changing environment and not find ourselves at a later date with diminished options."
Earlier this year, RDA—which was purchased by Ripplewood Holdings in November 2006 for $2.4 billion—said it would eliminate 8 percent of its overall workforce, or approximately 280 employees, as part of what it called a "Recession Plan" roadmap. The company said it expects its cost reduction plan, as well as outsourcing its IT operation to India, to produce an incremental $50 million EBITDA in the second half of fiscal 2009.
RDA recently launched three magazines: Fresh Home, a do-it-yourself title for women; Best You, a women's health magazine; and Purpose Driven Connection, a partnership with Saddleback Valley Community Church pastor Rick Warren. In May, the publisher shuttered the U.S. edition of Selecciones. Through the first half, Readers Digest magazine saw ad pages drop 7.7 percent while sister RDA title Everyday with Rachael Ray saw pages fall 14 percent, according to PIB figures.
In its recent 10-Q report, RDA said some of its lending institutions closed five of its 10 international lines of credit (outstanding balances were paid in full). Another lender lowered the amount RDA can borrow.
Meet the Author
---