Sources: CFO on the Block

The Economist Group said to be conducting 'well-guarded' auction.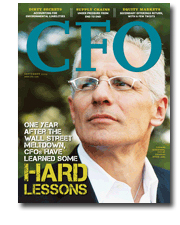 The Economist Group—the U.K.-based publisher of its flagship the Economist magazine—is said to be quietly looking for a buyer for CFO magazine.
 
According to a pair of sources familiar with the process, the Economist Group has been in negotiations with a number of potential buyers, possibly since January. "It's been a pretty well-guarded secret," one source who wished to remain anonymous told FOLIO:. "It's been an informal auction process. They've been reaching out to people through third party groups."
 
Another source indicated that the Economist Group had retained the Jordan, Edmiston Group to broker a sale. When contacted by FOLIO:, a JEGI spokesperson declined to comment.
An Economist Group spokesperson declined to "comment on rumors."
 
One of the interested parties, according to one source, was Stamford, Connecticut-based Asset International, which is backed by private equity group Austin Ventures. "They got pretty close to a deal this summer," the source said. "From what I understand, they had an agreement in principal but, with CFO's falling revenues, the deal dissolved."
 
Asset International CEO Jim Casella declined to comment when asked about the negotiations. In July, Asset International acquired financial data and analytics firm Strategic Insight. A month earlier, Asset bought The Trade Ltd, the London-based publisher of The Trade and other products targeting institutional investors and the buy-side electronic trading community.
 
The Economist Group shut down CFO Europe in June following the closings of CFO Asia and CFO China in February.
 
Overall, the Economist Group has seen a record year. The company reported that profits jumped 26 percent to $92 million for the fiscal year ended March 31 and, later, that global circ. for the Economist magazine grew 6 percent to 1,418,013—double what it was a decade ago. Meanwhile, the company in August completed the acquisition of Congressional Quarterly from Florida's Times Publishing Company. Terms of the deal were not disclosed.
 
While the CQ acquisition and a recent staff reduction could suggest that the Economist Group might hold onto CFO, at least for now, a source in the M&A market said he wouldn't be surprised if the company "continued to rationalize its portfolio."
Meet the Author
---