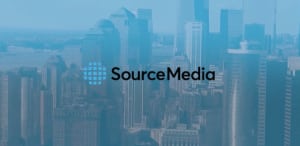 Dennis Strong has been promoted to SourceMedia's senior vice president, head of media sales, and will report directly to CMO, Matthew Yorke. In his new role, Strong will oversee the sales of the company's digital marketing services inclusive of demand generation, custom content creation, video, research, digital and print advertising.
Strong started with the digital business information and performance media company back in 2010 as sales director of group accounts, then took the position of VP, content sales in 2014. Most recently, he held the role of VP sales, group publisher – banking, payments, mortgages, which he earned in 2015. Under his leadership, the group saw revenue growth of 45 percent.
"With this promotion, we are blending our vertically-focused sales organization with our ability to leverage data," said Yorke in a statement. "This will allow us to better serve our marketing customers with a more complete view of their audiences and, as a result, better business outcomes."
Before his tenure at SourceMedia, Strong served as the general manager/vice president of sales for the litigation support company SiteLogic Technologies. He saw many successes while working with top law firms, managing broad and diverse legal matters.
"SourceMedia has released a number of innovative products within the past couple of years and this innovation has led to a rethink of how we provide value to our customers," said Strong on how his bigger role at the company will allow him to better serve SourceMedia's strategic direction. "We will be working even more closely with our customers to deliver the best products and services to meet their specific marketing needs."
---
Here are the rest of this week's people on the move…
Meredith Corp. has promoted Andrew Snyder to SVP and head of video, responsible for all of the company's digital video programming, production, and revenues, and reporting to Stan Pavlovsky, president of Meredith Digital. Snyder had joined Time Inc. pre-acquisition to head up sales for video, Snapchat, and virtual reality.
Snyder moves up as the company's current head of video, VP Ian Orefice, announces he's leaving Meredith Corp. to focus on film and TV production full time. Orefice had been with Time Inc. since 2010, when he joined as an executive producer at Sports Illustrated before rising to head up all video programming in 2015. Lauren Mikler, an executive producer in Meredith's entertainment group, will take on added responsibilities as a result, reporting to Will Lee, the group's SVP of digital.
Leah Flickinger announced in a Twitter thread on Thursday that she has departed Bicycling Magazine after 21 years with the brand, due to her editor-in-chief position getting eliminated as a result of the Rodale acquisition by Hearst earlier this year.  In her statement on the social media platform, she said that she had been offered to stay on in another unnamed capacity at the publication, but declined the offer because it felt like "the right time to explore something new."
While Flickinger didn't state her next career steps, she did say, "I'm genuinely stoked to have had the opportunity to lead such a great brand—and I'm just as stoked to find out what's next. I'll be around enjoying some time off, spending time with family, riding bikes, and working on new projects."
Condé Nast has upped Erin Hover to creative director of Teen Vogue. Hover has been with the title since 2012, most recently as senior art director. In the new role, she'll oversee all visual and design direction for the digital brand, working closely with chief content officer Phillip Picardi and reporting to corporate creative director Raúl Martinez.
Former COO of Time, Inc., Jen Wong, has been tapped for the same role at Reddit in order to help develop the company into a competitive digital advertising business. She will work to oversee the company's business strategy.
Barron's has appointed Ben Levisohn as managing editor for markets, where he will be responsible for managing daily market coverage as well as writing the Trader column.
Prior to joining Barron's in December of 2012, Levisohn was a reporter for The Wall Street Journal, BusinessWeek and Bloomberg News. While with Barron's, he started as the emerging markets editor, then took on the role of a markets reporter and blogger. He wrote the weekly market issues opinions column Streetwise, as well as quintupled traffic for the blog Stocks to Watch section.
SportsBusiness Journal added a couple new staffers this week. Ted Keith left his decade-long post at Sports Illustrated to join SportsBusiness Journal as assistant managing editor, and Mike Sunnucks was named the fan experience, facilities and venue reporter, departing from his two decade-long residence at American City Business Journals.
Elle.com made several promotions within its editorial staff today.
Nikki Ogunnaike

was promoted to style director where she will oversee the direction of style coverage, including fashion, personal style and beauty, across the site, social media platforms and video. She formerly held the role of fashion features director.

Estelle Tang

was promoted from her role as culture editor to senior editor and will take on the responsibilities of both the site's culture and entertainment coverage.

Formerly Elle.com's social media editor,

Emily Tannenbaum

was promoted to social media and entertainment editor. She will contribute to the site's entertainment coverage in addition to her current oversight of social media strategy.

Alyssa Bailey

was named news editor from her role of associate editor.

Justine Carreon

was promoted to market editor from contributing online fashion editor.

Former beauty producer

Chloe Hall

was tapped as writer/producer across a range of topics including culture, relationships and beauty.
Thomas Moore has been tapped as PR Week's newest senior reporter. Up until departing in January, he held the role of a gaming industry reporter at the Las Vegas Sun.
The Marshall Project tapped Marcia Davis as its next news editor. She most recently served as an articles editor and writer at the Washington Post Magazine.
The Washington Examiner's Sarah Westwood is leaving her role covering the White House at the magazine, for the same role at CNN.
David Mark will take on the role of managing editor for privacy and data security at Bloomberg Law from his most recent post at Morning Consult. He has previous experience at CNN and POLITICO as an editor.