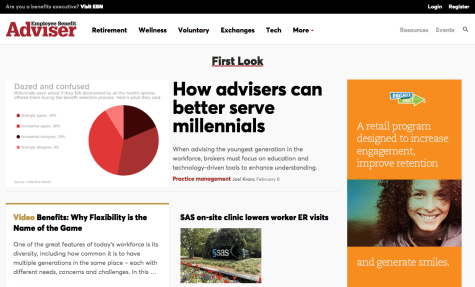 SourceMedia, publisher of B2B brands American Banker, The Bond Buyer, Financial Planning, and Health Data Management, among several others, announced today a company-wide relaunch of its digital publishing platform in an effort to optimize engagement, cross-platform user experience, and native advertising integration.
With features like a cleaner interface, responsive design, and continuous scrolling, the company hopes the new platform will better harness the business opportunities afforded by digital media and allow its audiences and clients to more deeply engage with one another.
"As a premium B2B network, technology is at the center of our strategy," said Minna Rhee, SourceMedia chief digital and marketing officer, in a statement. "We are actively developing our internal capabilities and evolving with new technologies that will drive ongoing improvements to deliver more engaging user experiences while providing marketers with more innovative ways to reach their target audiences."

One of those innovative ways is through native advertising, which the company indicates is a key aspect of the new launch. Sponsor-commissioned articles, white papers, infographics, and videos will be integrated into content feeds without confusing readers, according to SourceMedia.
Health Data Management, Employee Benefit News, and Employee Benefit Adviser are the first brands to receive the digital makeover; flagship American Banker, along with the rest of SourceMedia's more than 20 titles, will follow in the near future.
Reston, VA-based Perfect Sense Digital developed the new content management system, which will power an expanded content taxonomy designed to bring accurate, relevant content to the surface. Brooklyn-based digital agency Work & Co. designed the new user experience.
The shift to center a company's growth strategy around digital growth and innovative marketing solutions—even as SourceMedia still publishes a number of print magazines—is a clear trend in B2B media as print advertising revenues run dry and intimate audience relationships grow ever-more valuable. Moreover, mobile responsiveness is vital to any brand, with audiences increasingly accessing digital content via smartphones.
Roadblocks remain, though, perhaps the most notable of which are ad blocking and viewability. SourceMedia hopes the new, cleaner site design, as well as more seamless integration of native advertising, will help overcome those challenges.
"This is a milestone for SourceMedia, enabling us to deliver on important operational priorities and product strategies," added David Longobardi, chief content officer, in a statement.