SourceMedia Adds Video Commercial to Subscription Page

Conversion rates jump 10 percent in the first week.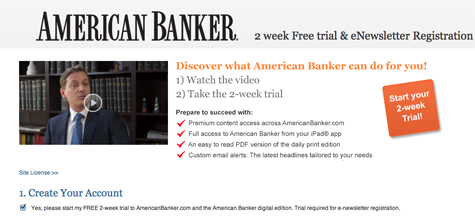 Financial services media company SourceMedia recently incorporated a short video commercial into its subscription page for flagship title American Banker. The 53-second spot, created in-house, has boosted conversion rates by 10 percent in its first two weeks on the page.
SourceMedia has its own video studio with two full-time videographers and creates a high volume of content for its network of sites, but is now finding new ways to leverage the format for other opportunities.
While the video has had a material impact on American Banker's reg form, helping conversion rates for a two-week trial offer jump from 35 percent to 45 percent, it's also doubling as a capabilities showcase for advertisers.
"On the subscription front, we wanted to illustrate the value of a subscription in a quick and interesting way," says Adam Reinebach, executive vice president of marketing services.
The video auto-plays once a visitor lands on the page and depicts a banker getting the jump on his colleagues in a meeting after having quickly browsed market news through SourceMedia's mobile content.
SourceMedia hired actors to appear in the commercial and in addition to a few other elements associated with the production, costs were fairly minimal, between $6,000 and $8,000.
But Reinebach hopes the creative angle of the commercial, which differs from the standard, service-oriented video content SourceMedia typically shoots, will attract interest from marketers. "No one is going to mistake SourceMedia for DreamWorks, but I'm hopeful this production will be a door-opener to more video business, including some financial services commercials," he says.
Creative video sales and applications, says Reinebach, can be a way to not only attract new business, but expand an existing client's spend with SourceMedia.
"In the banking industry, marketing budgets don't change much and when you want to grow that business, you have to eat into market share. We are trying to show we have the same abilities as the agencies and the content expertise as well," Reinebach says.
Meet the Author
---