Source Media Shutters Broker Magazine

As mortgage market contracts, publisher folds title.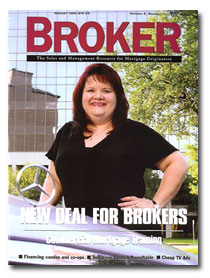 With U.S. financial market in turmoil, and the mortgage broker sector contracting, New York-based b-to-b publisher Source Media has decided to fold Broker magazine into its flagship sector title, Origination News.
"It is well-known that the mortgage broker sector has been hard hit by the national lending crisis, and the number of brokers in the marketplace has declined over 40 percent from 60,000 to 35,000," Doug Manoni, executive vice president and managing director of Source's newly-formed banking division, wrote in a statement to FOLIO:.
No layoffs were made as a result of closing Broker, according to Manoni.  Broker staffers were placed elsewhere within Source's banking group.
"We have concluded that we can better serve this market sector with one expanded publication that combines the practice management of Broker magazine with industry news, trends and analysis of Origination News," Manoni wrote.
Broker had a monthly circulation of 15,000. The combined circulation of Origination News—also a monthly—will jump 5,000 to 20,000.
In August, Source announced a sweeping reorganization, concentrating its more than 60 magazines into four business groups: banking, capital markets, technology and professional services. The company also recast its editorial staffs for each individual brand by rolling editors into combined units for each of the four groups.
Outsourcing Web Site Development
Source has stepped up its partnership with St. Paul, Minnesota-based iProduction to manage "the majority" of its more than 40 Web sites. The online publishing platform took on management of "a smaller number" of Source's sites starting in 2006.
"The decision was taken to accelerate speed to market and to lessen the burden on our in-house Web development resources," a company spokesperson said.
Source will continue to manage in-house the American Banker and Bond Buyer Web sites, as well as a number of other sites, the company said.
Meet the Author
---