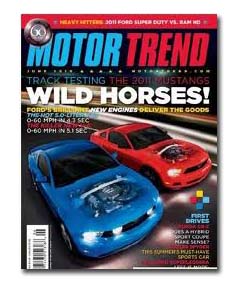 It's a project that traces its roots to more than a decade ago, when the idea to transform its printed images and negatives to digital formats began. Now, Source Interlink Media is beginning to actually digitize its archive of photos from numerous titles over the decades—spanning several publishing companies and their acquisitions.
"Digitizing this archive is like preserving a piece of true history—especially in the automotive arena," says Source Interlink business development senior vice president Jacqueline Blum. "Many of the photos/negatives in this archive are unique, one-of-a-kind shots that do not exist elsewhere. As time marches on the ability to keep these images in pristine condition so that they can be used in the future is challenging at best, unless we take advantage of what technology has to offer us now."
Blum says the archive is made up of various types of images with the bulk composed of film shot in various 120 formats—with many in 6×6 configuration as well as 6×9 aspect ratio for event photos. The archive also consists of more than 10,000 black and white 4×5 negatives.
Source is working to determine how many images in its archive are worth digitizing. "The archive contains imagery from many of the Petersen automotive titles, but the bulk is from Hot Rod and Motor Trend," says Blum. "There are some images that pre-date the publications in the 1940s. In 1955, the indexing of an ever-growing image bank began and continues today. The entire archive consists of more than 6 million images."
The Petersen Publishing Company was headed by Hot Rod and Motor Trend founder Robert E. Petersen. The company was acquired by a private equity firm in 1996 and was later sold to Primedia in 2001. Primedia subsequently was acquired by Source Interlink in 2007 in a stock purchase of approximately $1.2 billion.  
Source is working with document imaging service Crowley Imaging (the firm that digitzed the 10 million images from the Life magazine photo archive) to actually digitize the photos/negatives. According to archivist Thomas Voehringer, the plan is to send Crowley 25,000 negatives every two weeks and to get the scanned images back in super high resolution (3,000 dpi) JPEG format. Crowley will tweak some images to improve their quality and will need to attach metadata to each scan so that they are searchable.
Due to the vast size of the archive, Blum says the entire digitization process is expected to take several years. She says that while a lot is still being worked out, the digitized images will eventually be used for a number of special projects and editorial uses. "We will continue to develop newsstand specials and support other publications with the archive, in addition to books and other valuable uses in the coming years," she says. "Even before the project is completed this ongoing effort will make our photographic archive a more readily accessible and rich resource of automotive history."