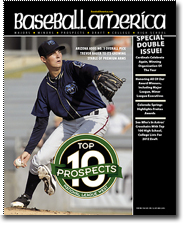 In a move to expand its traditional sports portfolio, GrindMedia (a division of enthusiast publisher Source Interlink Media) acquires Baseball America magazine and accompanying properties. Baseball America's original staff will remain in the magazine's Durham, North Carolina-based offices.
Norb Garrett, SVP group publisher with GrindMedia, says Baseball America is a strategic fit for its "sticks-and-balls" portfolio. SLAM, a basketball-focused title, is under this umbrella as well. "Our target audience is 18- to 45-year-old males. The opportunity presented itself for us to add a brand with great capability," says Garrett.
Baseball America produces 26 issues yearly (in print and digital), and has an average circulation of 32,300. The acquisition includes Baseball America's book series, with titles like Prospect Handbook (which serves young amateur ball players looking to turn pro). "These properties in the printed form, and the opportunities in the digital form, will not only continue; we hope to expand them. We are also looking to deepen and expand their digital footprint, through video and other offerings," says Garrett.
Baseball America's revenue and terms of the deal were not made available.
"It's our intent to carry on the business and not simply add depth from a strategic standpoint, but also a capability standpoint," says Garrett. "We want to help expand what Baseball America means to the baseball audience, and to build their media properties by layering our capabilities on their team."
According to FOLIO: sister site minonline, GrindMedia's parent company Source Interlink was one of the top five ad gainers in the group publisher category for the September to January period in 2011. Ad pages increased almost 5 percent, about 267 pages, from January to September 2010 to January to September 2011.