Source Interlink Media Takes Majority Stake in Indian Auto E-Retailer

Carazoo will be gateway for Motor Trend Group brand expansion.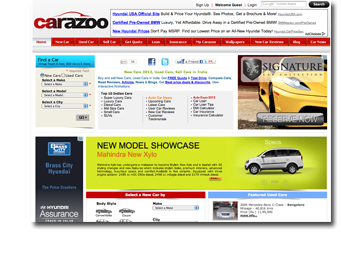 Source Interlink Media is making a play for the Indian automobile market by taking a majority stake in Carazoo, a company that provides e-marketing solutions and software for car and motorcycle dealerships in India, and operates the online auto marketplace Carazoo.com. Source, which publishes a number of titles in the automobile vertical, including the Motor Trend Group, expects to use the platform to tap into India's growing auto sector for both its advertisers and content brands.
Carazoo, which claims 500,000 monthly uniques, is a subsidiary of Bangalore-based Logix Microsystems, which creates automotive e-retailing platforms in the U.S., Europe and Asia. Carazoo in particular is an online hub for new and used car location and purchasing, but the group also offers dealer management software, web development and marketing services to Indian car and motorcycle dealerships.   
Chris Argentieri, president of Source Interlink Media, declined to offer any specifics on deal terms beyond the majority stake, but emphasized the global nature of the deal, especially with regard to matching brand reach with the worldwide marketing ambitions of Source's automobile advertisers.
"All major demographic trends in India point to continued growth within the automotive sector, both in terms of new and used car sales, while complemented by an extremely robust motorcycle market as well," said Argentieri. "India is also a strategic market for many of our marketing partners, so this investment fits naturally with our strategy to build integrated media platforms that extend reach for not only our own brands, but those of our partners as well."
Moving forward, Argentieri says next steps will focus on mobile development. "Our first task will be to integrate Carazoo at the appropriate level within our organization, and to expand its reach by way of emerging platforms with particular focus on mobile expansion. Our next area of focus will be centered on the development of our in-market auto properties in India, across various integrated media platforms.
Meet the Author
---