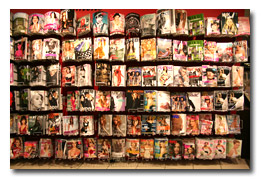 UPDATE: Anderson News Suspends 'Normal Business Activity'
The entire magazine newsstand channel is in a state of chaos.
In a wide-ranging interview Wednesday, Source president and COO Jim Gillis not only denied reports that Anderson News and Source were pulling out of the magazine market, he said that most of the market's top-selling newsstand titles will no longer have homes on his retailers' shelves.
Gillis said the country's biggest publishers, along with national distributors Curtis and Time Warner Retail, are shutting Source and Anderson out of the magazine supply chain in a bid to wrest pricing control away from retailers. "This is about American Media and Curtis and Bauer and Time Warner trying to control retailer pricing by eliminating magazine wholesalers so they don't have so many they've got to do business with," he said.
SEE ALSO: 'Unprecedented and Unprovoked Assault' on Us: Source CEO's Letter to Retailers

Gillis also said that the 7-cents-per-copy surcharge Source and Anderson asked for in mid-January was pulled off the table almost as quickly as it was introduced.
Source, he said, was attempting to prop up profits in a broken distribution model. But following the failed seven-cent proposal, the company planned to meet with publishers and distributors individually to re-work incentive programs. Then, Gillis said, the bottom fell out. "Look, I saw every single national distributor and publisher last week and I was promised all the magazines uninterrupted," he said. "And on Monday at 4:17 [p.m.] when I released all the payments, those guys shut me off 13 minutes later because they're all talking to each other. So there was never an intention of shipping me. They've been thinking of this for a year, not two weeks."
A Time Warner spokesperson said the surcharge still smarts and ultimately did more harm than good. "Acting unilaterally within a matter of days, both wholesalers decided to charge the 7-cent fee for every magazine distributed. Despite that ultimatum we reached out to them multiple times to negotiate financial terms that would work for both parties and they refused our attempts every time. We're continuing to work with our retailer community to ensure as little disruption as possible. Our goal all along has been supply chain stability."
Neither Curtis nor Bauer returned requests for comment in time for this story.
Business to Continue, But Not as Usual
Gillis said Source is not exiting magazine distribution. Instead, he's prepared to maintain contracts with his existing retailers, which approach 35,000 and include Wal-Mart and Barnes and Noble, the two biggest magazine sellers.
Consequently, Bauer and Curtis and Time Warner Retail clients, who have, according to Gillis, stopped shipping product to Source, will not have product going into those retailers.
In the shuffle, Gillis said he was contacted by News Group to buy his Chicago operation. "I was contacted by News Group last night and they want to buy Chicago," he said. "[They] admittedly wanted me to run it for two months because they can't even do that. And guess what I'm not doing? I'm not selling them Chicago. I'd burn the f*cking place down first."
In the meantime, Source is shipping the magazinesit has and continuing on with or without a core group of publishers—with the backing of his retail partners and a deep-pocketed Ron Burkle, whose Yucaipa Cos. owns a 49 percent stake in Source Interlink. "I'm shipping magazines," Gillis said. "And my retailers are not accepting product from anyone but me. So I don't know what Anderson and News Group are doing and I don't really give a sh*t. In my footprint, nobody is delivering magazines but me. So that means that AMI, Curtis, Bauer and Time Warner are out."
Source closed 40 warehouses last year, and Gillis said he is prepared to close 20 more should product density suddenly dip. "With the retailers we will either shrink the space or the product will flow," he said. "We'll downsize enough to accommodate the retailer."
Can Source Survive?
One industry observer, however, said most contracts between wholesalers and retailers have a clause that allows the retailer to find a new wholesale partner if certain titles are not delivered within a pre-arranged time-frame. So it remains to be seen if Source's retailers will stay loyal after losing sales on the industry's top-selling titles.
The loss of business, while impactful, is not yet a deal-breaker for Gillis. "Source is liquid, we have $200 million in the bank, and we are backed up 100 percent by Yucaipa and with all of our businesses."