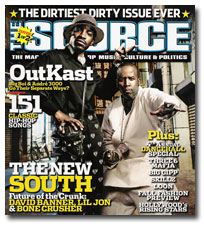 In what amounts to a risky move in the hip-hop industry, L. Londell McMillan, the co-publisher of the Source, told the New York Times recently that the magazine will no longer accept booty ads.
The ads, predominately for pornographic films, Web sites or escort services, will disappear, despite the fact that they are a mainstay for the publication—more than half the ads in the magazine at times, McMillan said.
While the publisher recognizes the risk of cutting any advertisers loose at a time when ad sales are hemorrhaging, McMillan thinks he can entice advertisers that have cringed at the amount of adult-only ads in the past—namely, financial services, travel and corporate consumers.
Maxim made the move to a more adult look and feel in order to attract higher end advertising, including luxury advertisers, particularly from the high fashion and auto sectors. And New York magazine dodged a threatened boycott by a women's group in 2007 when it pulled all of its back-of-the-book ads for escort services.
It seems to be as much of a moral issue as a business one. "We don't want to just glorify the lowest-hanging fruit," McMillan told the Times. "There's a lot of people that want hip-hop but don't want some of the filth that some of the business carries with it."