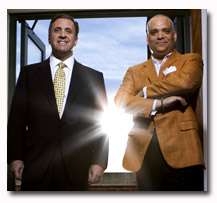 This summer, Wasserstein and Co. emerged as the likely buyer for Cygnus Business Media. A deal was expected to close by the end of August.
Now, Wasserstein and Cygnus owners, Boston-based ABRY Partners, are "going in different directions," a knowledgeable source told FOLIO: this week.
"Exclusivity was broken," said the source. "While they still reach out occasionally … [Wasserstein] essentially is on the back burner."
ABRY, according to the source, is entertaining bids from a pair of separate private equity groups. The source declined to name the bidders but called the more interested party "surprising."
"I was surprised that they'd be in the market for M&A," the source said.

What Happened?
When sale talks began, observers estimated ABRY's asking price was upwards of $240 million, or about 8x EBITDA. As negotiations progressed, however, Wasserstein's offer was said to have dipped to, or below, $200 million.
"Cygnus' second lien holders didn't like their take and they ended up screwing the whole deal" with Wasserstein, another knowledgeable M&A source told FOLIO:.
In September, Moody's Investors Service downgraded three of Cygnus Business Media's ratings as a result of the publisher's disclosure that it was in default under the financial covenants of its senior secured loan agreements. Cygnus, according to Moody's, failed to comply with terms of its first lien senior secured loan agreement and its Series A preferred shareholders agreement.
At the time, Cygnus had not announced plans to fund the payment of approximately $167 million in debt which is scheduled to mature in July 2009. About $9 million is due in January.

Will a Deal Get Done?
"It's a tough time in the economy. The best thing for Cygnus is to get a deal done and begin focusing on their business and strategy," one source told FOLIO:.  "ABRY is still looking to get something done before the end of the year."
Another source isn't as optimistic. "The whole thing is still up in the air, but it doesn't sound like a deal is going to get done at this time.  It is not a pretty situation."