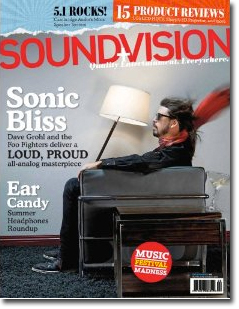 Though many magazines are now in the tablet game, Bonnier's Sound + Vision is using this opportunity to strengthen content in a way not possible on the printed page.
The former "Home Entertainment Authority" is relaunching with a focus on entertainment devices beyond the home. Debuting in the summer June/July/August issue, expanded editorial features include a new front of book section, "The Shuffle", which includes reviews of portable audio and video devices; "S + V Lifestyle", which shares product reviews in "real-life environments"; and a restructured "Entertainment section".
Editor-in-chief Mike Mettler Mettler worked closely with Bonnier technology group creative director Sam Syed in developing the Sound + Vision digital edition, which will be available on the iPad in the coming weeks. For the initial marketing of the iPad edition, Mettler says that an Easter egg approach will be used for promotion, "burying clues for readers to find on the Sound + Vision website".
Social campaigns will also be put in motion once Sound + Vision is officially on the iPad, with additional promo set for the September issue. A subscription model will then be put into place, similar to that of other Bonnier mags like Popular Science and Popular Photography, which are already available through the App Store.
As Sound + Vision strengthens its editorial focus on the music scene, audio and visual clips will be embedded into the text.
The tablet edition of S + V gives Mettler and his staff a freedom to include more content and features.Without the restraints of staying within boundaries of an ad page quota, stories like this issue's "Hi-Fi Sunshine Trip" and a Henry Rollins profile are expanded with additional copy and video in the iPad edition.
With this kind of space for expansion available in the digital landscape, Mettler says the content of S + V will transition into "an experience".
The redesign attracted several new advertisers, including Volkswagen, Samsung and Nikon, among others.
Ad pages were up for S + V for the summer issue, increasing 12 percent from 37.32 pages in July 2010 to 41.98 pages in July 2011, per min.