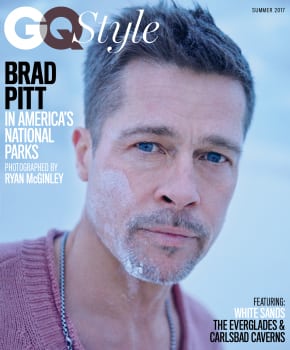 While much of the internet has been preoccupied with political reporting, the one-year-old GQ Style proved that a good celebrity cover story can still go a long way.
The quarterly lifestyle magazine broke several in-house records this week as it revealed its summer 2017 Brad Pitt cover across social media on May 2. The magazine followed up the next day with its photoshoot of Pitt frolicking about national parks, and an intimate interview in which the celebrity candidly discusses his life six months after his divorce with Angelina Jolie.
In an interview with Folio:, editor-in-chief Will Welch said that his concept for this issue came from his feeling that there was not enough media that brings people together. The photoshoot and resulting interview were meant to be appealing to a non-controversial American identity.
"There were 300 million visitors to the National Parks last year alone. That's a staggering figure," Welch says. "If the national parks are what unite us, who is the subject that unites us? Brad Pitt is someone we can all agree with."
As tends to be the case with any content that goes viral, not everyone agreed. Some critics were quick to mock the interview. The Guardian called it "the most excruciating interview of 2017," and said that it is "predicated on the notion that performative recovery and fashion advertorial need not be mutually exclusive."
But all press is good press when it comes to traffic, and the audience engagement metrics speak for themselves.
The biggest record was in "time spent," where GQ Style had 3.4 million minutes in engaged reading time on May 3. This is 80 percent higher than the previous single-day record across GQ.
In addition, GQ Style and its parent magazine GQ both saw big gains on social. The cross-promotional, social led cover reveal brought GQ a 71 percent increase in Instagram followers.
The team also produced related video, which saw 500,000 video views in the first 24 hours. Engagement was up 6,000 percent across Facebook.
While quick-hits and breaking news are known traffic drivers in the digital age, GQ Style pulled off something quite old school: they gave space to a fairly long article, and invested in an extensive photospread.
The photoshoot itself was part of an eight-day trip around the country with Pitt and GQ Style photographer Ryan McGinley, where they visited The Everglades, White Sands, and Carlsbad Caverns.
Coming in at over 6,000 words, Michael Paterniti's article is longer than much of the digestible content media brands have embraced in the last few years. When asked if he was worried that such a long interview would go unread, GQ executive digital director Mike Hofman told Folio: that it wasn't an obvious choice — there was a lot of conversation about the best way to send this story into the world.
"We felt like the full package was so appealing and so epic that releasing it together was the right way to go," Hofman says. "We feel rewarded because the time spent was enormous; you see a lot of publishers on the web thinking about which metrics we judge ourselves by these days. It used to be that you focused on unique visitors, and the world incentivized you in that direction."
"Each story is different," Welch followed. "The reason that engaged time metric was so exciting to me is that the whole philosophy is GQ Style is to be immersive. We're never going to compete in the number of posts; we're not a brand that is about massive scale; it's really more about the right audience and the immersive experience."
Of course, it goes without saying that this was a big moment for Pitt as well. As his first major media appearance outside of the tabloids, audiences were curious what he would have to say.
In one of the many aggregated pieces covering the interview, BBC News wrote, "So how does one of Hollywood's biggest stars begin to fix his image and move on? The answer seems to be — by doing an eight-day photoshoot mucking about in America's national parks and a long, confessional and philosophical interview with GQ Style."
And how does one of the magazine industry's youngest brands make a name for itself? The answer, it seems, is exactly the same.