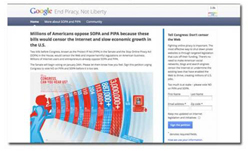 In an attempt to protect copyrighted material, the U.S. Congress has been mulling a proposal to curb access to websites, search engine results and domain names, among other things, something that has seemingly outraged many in the digital community.
The bill, entitled the Stop Online Piracy Act [H.R. 3261], has so infuriated Wikipedia that it blacked out its site today. Google has also promoted the bill's destruction, with its clever logo on its homepage blacked out for the remainder of the day and linked to a petition and fact sheet (pictured).
"The U.S. government could order the blocking of sites using methods similar to those employed by China," writes the search engine on one of its pages. "Among other things, search engines could be forced to delete entire websites from their search results."
So far, AOL, eBay, Facebook, Twitter and LinkedIn, among others, have already come out against the bill's proposal, which is known in the Senate as the Protect Intellectual Property Act (PIPA) [S.968].
What would all this mean for our industry, though? When reached by this reporter, the MPA declined to comment. It seems that some type of measure would be supported by the organization, however, which recognizes "the significant impact and harm piracy has on copyright dependent industries like magazines, movies, music and clothing," a statement from the MPA says.
Where SOPA and PIPA may really hurt our industry is with our advertisers—they could lose millions of dollars by intentionally or unintentionally providing services to "rogue sites." While many news outlets provide original reporting that would be protected from this law, our advertisers have a stake in different kinds of online properties and may have long court battles ahead of them under the proposal, which could complicate relationships with other existing clients like magazines.
A rogue site is defined as any website that facilitates copyright infringement; one of the reasons Google and Wikipedia are so concerned. Since rogue is so broadly defined, several different digital properties could be at risk for violating the would-be laws–the language could sweep up innocent sites that are merely re-purposing content.
"[PIPA] authorizes the Attorney General to direct U.S. based third-parties, including Internet Service Providers, payment processors, online advertising network providers and search engines to take appropriate action to either prevent access to [a 'rogue'] site, or cease doing business with it," the statement from the MPA says. "While providing immunity to websites that sold a product that turned out to be counterfeit, PIPA would allow a copyright or trademark holder to ask a judge to compel Internet advertising agencies and financial firms (i.e. MasterCard) to discontinue processing payments or providing services to the rogue sites."
In addition to possibly harming advertisers, some magazines are spending large sums to create web-exclusive shows with YouTube, which could be harmed in this case and possibly cause other hardships for brand extensions since sharing a video or other content on Facebook could fall under copyright infringement.
"Fighting online piracy is extremely important," writes David Drummond, Google's senior vice president of corporate development and chief legal officer. "We are investing a lot of time and money in that fight. Last year alone we acted on copyright take-down notices for more than 5 million webpages and invested more than $60 million in the fight against ads appearing on bad sites. And we think there is more that can be done here—like targeted and focused steps to cut off the money supply to foreign pirate sites. If you cut off the money flow, you cut the incentive to steal."
So while Google, Wikipedia and others go black today, the world will wait and so will the magazine industry. The White House has already issued a statement saying it will not sign such legislation if it is passed, which is not easing any woes as of yet.