For Some Titles, Digital Engagement Outweighs Print

ESPN The Magazine, Sporting News and WIRED lead with digital, per Affinity.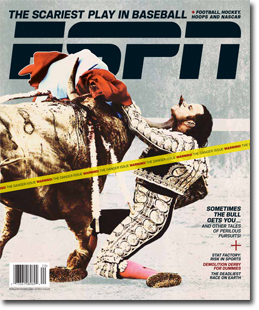 Magazine brands have several challenges in the digital space, as content competitors multiply daily. However, some titles have managed to create a strong following online, with digital audience numbers besting print users. According to data released from Affinity's American Magazine Study, this group includes Barron's, Money, New York Magazine, The Economist and Sporting News.
Some discrepancies remain low (Harvard Business Review has a total print audience of 849,000 and a total digital audience of 852,000), while others are seeing a much larger divide (Fortune has a print following of 4.197 million, and a digital audience of 14.348 million).
ESPN the Magazine sees the largest gap between print and digital readers of surveyed publishers. Its print property has a collective audience of 11.09 million, and its digital network (including websites, social networks, smartphone apps, tablet apps, eReader apps and Zinio edition) has an audience of 24.941 million.
John Kosner, senior vice president and general manager for digital and print media for ESPN, explains the division, "The magazine is artificially constrained by the number of issues we can print and circulate. Theoretically, anyone with an Internet connection can get content from ESPN."
Despite its lower numbers, Kosner says the print magazine plays an invaluable role in ESPN's product portfolio. "There's an ability in print to be authoritative, definitive, have a level of writing and editing and reflection that is hard to do in television, hard to do on radio, hard to do with the rapid fire website. [In print], the quality of the story telling is better."
The physical dimensions of the print property add more value to the medium (measuring 10 by 12 inches). "There's a way that photography that can be revelatory in print. We have the biggest book out there, so we have the ability to do dramatic photo spread that we can't do on your laptop," he says. "The actual diagonal is 23.8 inches. Rolling Stone has gone to a smaller trim size, so ESPN is practically unique at this point. We think there's power in that size."
The bi-weekly magazine has a dedicated staff of roughly 50, and ESPN's digital properties have about 250 editors, writers and producers. "We have high school websites; ESPNW, which covers women's sports; we do multiple apps, interactive games, fantasy games. ESPN.com is now a network of different sites. We're all one group, we don't necessarily limit the people working on one or another," says Kosner. "There may be people just working on the magazine, but they draw from a bigger group who can help them out with any number of things."
ESPN the Magazine is published 25 times annually, and has a print circulation of 2 million.

Meet the Author
---