A digital publisher is using a software platform it developed to create publications on-demand similar to Time Inc.'s Mine project, but is completely digital and more targeted.
Sequence Partners' Sequence Micro Addressable Readership Targeting system allows readers to select information from a publication's library of content for personal delivery in either printed or e-mailed PDF format. According to Sequence founding partner Charles Benaiah, the SMART platform conversely allows publishers to align advertising to editorial and audience, and then to monetize that content.
"SMART also removes wasted audience vis-à-vis advertisers from the circulation to reduce production and postage expenditures," Benaiah told FOLIO:. "Publishers can charge premium CPMs and reduce costs to increase margin."
Sequence began developing the proprietary SMART software in May 2008 and rolled out the 1.0 version in January 2009. The firm launched the 2.0 version this fall, which is ready for third party publishing licenses.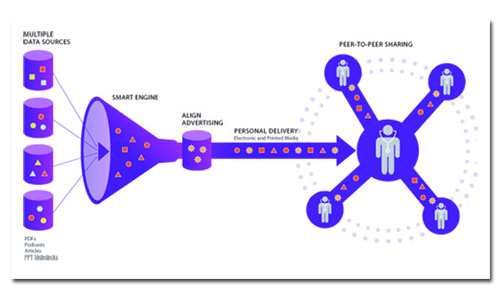 How It Works
Benaiah said SMART isn't based on "off-the-shelf technology." The data-driven service aligns editorial, reader interests and advertising by creating a database of keywords/names/topics that, when entered by a user (triggers the insertion of relevant advertising) Advertisers can pre-select content for which they decide their product sponsorship is most relevant.  
"Our development team spent 1-1/2 years building and it contains many thousands of lines of code," he said. "The software program concurrently collects user/reader information and statistics, not least of which is a real-time feature that allows advertisers to see who has ordered content in which its ad was inserted and, based on a per-unit price of $X per user (mailed or PDF), the advertiser can know precisely how much of its allocated budget has been exhausted at any given time—much like a pre-paid calling card."
Licensees can then decide whether to continue publishing a traditional publication or switch completely to the SMART system. (Publishers using SMART can continue to produce original content.)
Sequence initially launched SMART in the pharmaceutical vertical with clients including companies like Novartis and the Journal of Medicine, which transitioned to the 1.0 version of the system in early 2009. Most recently, U.S. Healthcare Communications moved its two medical journals—The American Journal of Hematology/Oncology and Oncology Nursing News—to the SMART system. According to David Meir, managing director of U.S. Healthcare Communications owner Gladstone Capital Corporation, "conventional, linear publishing is no longer the best approach for AJHO and OHN" and that its readers and advertisers "will each benefit" from SMART's content selection and distribution capabilities.
Branching Out to Other Markets
Benaiah said Sequence is in discussions with several other traditional publishers—mostly trade, although SMART also has a consumer publication application. It also has been working with non-traditional publishers like trade organizations and universities that "see SMART 2.0 as a way to enhance marketing and communications to their constituencies," he said. "By customizing and targeting, we can vastly improve the quality and relevance of a publication for most clients. And by having advertising pre-sold and ready for insertion, as applicable, to specific individuals or linked to specific content, the books go out at a guaranteed profit."
While he declined to offer specific dollar amounts, Benaiah said larger publishers pay for and is granted a license to the SMART software, which is delivered and supported on its server. Smaller publishers have the option of turning over operations on an outsourced, turnkey basis hosted by Sequence. That revenue model, according to Benaiah, includes a profit-sharing element in addition to the licensing fee.