Society for Human Resource Management

SHRM's media assets celebrate revenue generation as much as content creation.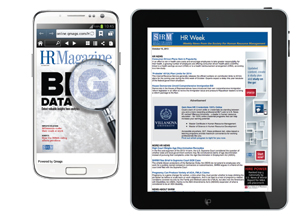 When Gary Rubin joined the Society for Human Resource Management (SHRM) 11 years ago, he brought a corporate sensibility with him.
"Being a not-for-profit is a tax status, not a state of mind," Rubin contends. "Making money is important. My mandate was to maintain the quality and value to members and at the same time increase efficiencies and yield."
SHRM has more than 575 affiliate chapters that represent nearly 270,000 members in more than 140 countries. But, just over a decade ago, it had only a website and job board in addition to various magazines titles, of which some have since folded.
Now, the association employs a digital publishing platform that offers books, email newsletters, a news blog, three magazines and podcasts, videos, webcasts and more.
This build out of its digital publishing side required adding new staffers to the association's editorial and electronics teams, which Rubin much prefers over working with outside partners.
"I'm greedy," he says. "I would prefer to invest in staff and technology to keep control over quality and our expenses [than] pay anybody in the middle."
Like most associations, SHRM works with a board of directors that Rubin says trusts the media group.
"We have a track record of producing high-quality content and doing so profitably," he contends. "We haven't given them a reason to worry."
With the board behind them, Rubin and his staffers worked to build a revenue model that was varied enough to catch all sponsorship opportunities. SHRM sells advertising for some of their products, but also sells directly to members, as well as others in the HR community.
SHRM employs several models to fund its popular webcasts. Over the past decade, webcast production has grown from four a year to more than 50 with various revenue schemes attached including a no-fee ad-supported model, a fee-based ad-free model and virtual conferences where attendees pay an access fee.
"If there's a dollar, we'll find a way to get it," Rubin contends.
Most content SHRM produces is free to the consumer and Rubin says that mitigates pushback from association members when they roll out content that does carry a cost.
"No one ever complains about getting more good stuff for nothing," he says. "With paid content, we do a lot of research, but the ultimate research study is if you produce paid content and people vote with their wallet."
Changes in cost structure mirror changes in content production and by gaining revenue from its digital products, Rubin says SHRM has shifted resources toward more blended and repackaged content offerings popular with association members.
"We rely more on e-newsletters which drive traffic into our main website," he says. "The e-newsletters are an important gateway to provide easy accessibility to other smaller audiences and they're inexpensive to produce."
Increased digital delivery of content is where Rubin sees SHRM moving in the next few years as it's the best way to provide a myriad of content quickly to its audience.
"Produce content in a variety of formats so you can appeal to most people," he says. "Things keep changing and it's critical to be agile."
TAKEAWAY: A not-for-profit in status not mindset, SHRM endorses a for-profit sensibility. 
Meet the Author
---