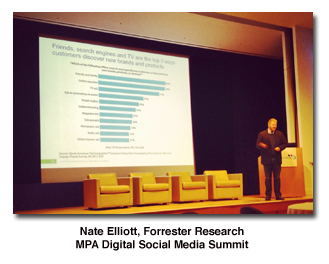 NEW YORK—Publishers need to stop being afraid of social media. That was the message delivered today by panelists at the MPA Digital Social Media Summit at the Time Life Building.
"We look at our customers' increasing activity in digital as a problem we have to solve, but the reality is these tools offer an opportunity to reach our customers in new ways," Nate Elliott, vice president and principal analyst for Forrester Research, Inc., told the audience of about 100. "We can offer them depth in ways we never have before. Think of different social tools as solutions to the problems we face."
Relating the print experience to the social media experiences of readers, and ensuring that social efforts fit into a broader corporate strategy, helps to drive actual business results, added Elliott.
"If you treat social media as an island then you're going to struggle," he said. "That's the biggest reason why businesses fail in social media."
According to Elliott, about 58 percent of Forrester respondents say the Internet is their primary research tool and, when asked where a respondent actually purchases items, 52 percent also said they turn to the Internet for that activity. Drawing connections between audience habits online and other experiences can help a brand to better monetize and achieve a higher ROI.
"Social media is a place to remind consumers what it is they like about our brands," he said.  "Engagement tools can help us in the media business. People that read comments drive additional depth. The people creating comment content are also actively engaged—giving existing fans a chance to stay in touch with the brand reminds them what they like about the content."
One brand Elliott pointed to that has been successful in social media, while not a magazine, was the beauty and cosmetics company Sephora. The brand built an online beauty community on their website—a place where its customers could engage and discuss product offerings and get information. People that came to the beauty talk area of the site spent an average of 133 hours per month in the community and those individuals bought 10 times more goods on average.
The Conversation Economy
"Most people find their content from other people like them—I don't know remember the last time I went directly to a publisher's website," said Ragy Thomas, founder and CEO of Sprinklr, a social media management platform. "Content finds me through my network."
Thomas says that brands now live in a connected conversation economy and content spreads because other people are talking about it.
Though speaking on a different panel, Stephanie Miller, social media editor for Self, reinforced this notion. Miller said that Pinterest exceeded Google referral traffic for Self.com Thanksgiving weekend.
"In the conversation economy, the shift is coming from content to content and conversations," Thomas said. "If you don't move from content to conversations, and figure out how to monetize the lifecycle of content, we believe you won't survive in the next 5 to 10 years."
Adriana Nova, social media manager for New York Media, echoed Thomas' sentiment in a later panel, saying that social media is not a broadcast but a dialogue with users that can influence ROI.
Thomas says that in order to succeed, publishers must:
1. Have a real-time social content creation, dissemination and syndication infrastructure in place
2. Visibility into audience profiles and engagement history regardless of channels to capitalize on insights
3. Capability to engage in a consistent voice
4. The ability to leverage multi-brand relationships
5. The ability to create engagement experiences
6. Enable internal collaboration
7. Have a taxonomy for social that mimics your CMS
Thomas also encouraged publishers to work with social platforms in the quest for monetization, saying, "I believe Facebook will be pissed if you hear me say this, but as a publisher you may be driving 10 or 20 million hits to Facebook—shouldn't that ad revenue be shared back with you?"