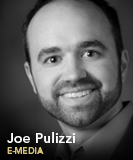 I've had the opportunity to talk with hundreds of publishers over the last few months about the state of their business. With all the challenges that face the traditional publishing business model, the most popular questions all revolve around social media.
"Do I need to get my editors set up on Twitter?"
"What's this social media release?"
"We set up a Facebook page for the magazine brand, but what now?"
So let's do it.
Twitter
Media and non-media companies alike can see upwards of 10 percent overall traffic coming from Twitter (us included). Twitter, the micro-blogging tool that works like instant-messaging on steroids, can be a game changer.
– Sure, you can create an account for the brand itself. You can use a program like Twitterfeed that will automatically distribute your articles through RSS. If you decide to do this, make sure you have someone maintain the account and tell your readers who this is. In the description put "This @Brand Twitter account is managed by @JohnSmith." Then, be sure to have John reply to readers and thank those that consistently ReTweet (republish or forward) your message.
– The better strategy is to make sure all your staff, editors, salespeople, production and, especially, your executive team, are using it. Show them how to set up a Twitterfeed account to push out content from the magazine. Done right, this strategy multiplies the affect considerably of what can be done with just one Twitter account.
– You and your staff will have a hard time grasping Twitter unless you use a Twitter management tool like Tweetdeck or Tweetgrid. We use Tweetdeck. Following the stream (the people you follow) is nearly impossible once you start following more than 100 people…so don't. Just follow the key phrases and your brand names. You can set up defined searches that will notify you who is talking about what related to your brand and your industry. Editors can follow certain phrases to get a lead on a new story. Salespeople can follow key customer brands and look like heroes if something important pops up. Even though we've been talking about distribution methods, Twitter's most important use is as a listening tool. It's a must-use tool for journalists.
– Be democratic. Don't just push out your own content all day long. Push out interesting and relevant stories that aren't yours (possibly even your competition). – Do it now. Twitter is a force regardless if they (Twitter) haven't figured out their own business model. Twitter's main demographic is between 35 and 55. Most of your readers and advertisers probably are too.

News Releases
I'm continually shocked at the number of publishing brands that don't use basic news releases to promote issue releases, key research, and robust content packages. Most of us have deals set up with the basic syndicators, but the concept of an online news release is a bit different.
– Pick your favorite company, PR Web, PR Newswire, Marketwire, etc. They all have their pros and cons. The point is, you should budget and plan for news releases as often as possible.
– Choose the SEO keyword option so that as your release is not just spread across Google, Yahoo! and other credible sites, but that they are picking up your links.
– Develop an edit calendar of releases and stick to it.
Facebook
A key player among what I call the big three (Google, Twitter, Facebook), the Facebook strategy is probably the easiest to go wrong. The main problem is most publishers run out to create their own Facebook fan pages. This strategy will get your loyal readers from the start, but it probably won't grow outside that base.
– No need to create a branded Facebook page. Instead develop an Industry or Topical page and manage it. What's the biggest problem your readers deal with? There's a Facebook page for that. New industry trend? There's a Facebook page for that.
– Be sure someone monitors and updates the page at least twice a week. No use putting up a page unless you are going to be part of the conversation.
Follow these steps and you'll see payoff almost immediately, but the long-term impact will spread your brand further than you could have possibly imagine. The time to start is now.
Joe Pulizzi is co-author of the book Get Content Get Customers and Founder of Junta42, a lead generation tool for publishers with custom publishing operations. Joe blogs regularly at http://blog.junta42.com.