Social Bookmarking, Part II

Questions for Tim Schigel, CEO of ShareThis.com.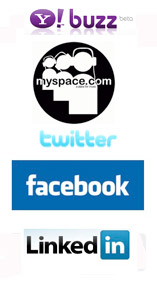 As part of my
blog post last week about social bookmarking, I motivated myself to do some
original reporting and e-mailed a few questions to Tim Schigel, CEO of ShareThis.com. Here are my questions and his (lightly
edited) responses:
HD: What aggregators/sharing sites have the most
traction in the marketplace?
TIM:
I'm not sure that I am qualified to answer the question regarding sharing sites
as it relates to aggregated sharing. Our
focus is more of a distributed model. If
you are referring to the social Web services inside of ShareThis we can tell
you that email still dominates, followed by Facebook,
MySpace and Digg.
The
answer is very audience and site specific, which is why a sharing platform like
ShareThis makes sense. For example, Mr. Wong is very popular in Europe and Digg tends to be more popular in tech-oriented
communities.
We
believe the users want to choose the service that appeals most to them and the
variety is good. Each services has its
own niche.
HD: Is Yahoo
Buzz (who have been actively pursuing traditional publishers) making a dent
in the overall market?
TIM:
We definitely see Yahoo Buzz ramping up, and their ability to leverage the
Yahoo portal makes a ton of sense. However, it's only one aspect of the sharing
puzzle.
Sharing
is becoming a broader term for a set of activities including "send" (email, AIM,
MySpace message); "post" (to blog or profile); "collect and organize" (RSS, tag,
bookmark); and "rate and recommend" (Digg, Yahoo Buzz, Reddit).
These services are often separate, but from the consumer's perspective,
they really need to be integrated. So Yahoo Buzz does a great job for what it
does.
The
traffic generated by Yahoo Buzz will likely be somewhat transient, or
susceptible to spikes by its very nature. Publishers tell us they are more
interested in increasing engagement on their sites. Not that anyone is going to
turn away a momentary boost in traffic. Further, people want to know what their
network of friends are reading and watching.
So
when you ask "Are they making a dent in the market?" the answer is, yes, they are making an impact in terms of generating traffic for
selected publishers. The question is
what do you define as the market? Does
success include generating more sharing activity or raw traffic?
HD: Is a shakeout coming? How many of these sharing/bookmarking sites
can actually survive?
TIM:
We think many of these services and niche sites will survive and thrive based
on their ability to serve their specific audience. We're seeing the number of social Web
services growing every day. We receive
multiple requests per week for services to be including in ShareThis. That's
why services like ShareThis have come about-to enable flexibility for the
publisher and consumer. Ultimately, I
think there can only be a few broad sharing platforms, but many specialized
services that plug into the platform.
Meet the Author
---