Social Behaviors and Business Motivations Strikingly Similar for In-Person and Online Events

Survey conducted by PCMA, UBM Studios and Virtual Edge Institute.
The Professional Convention Management Association (PCMA), UBM Studios and the Virtual Edge Institute (VEI) teamed up on a recent survey to explore how business professionals are engaging with technology during digital and face-to-face events.
"Too often the argument centers on how face-to-face or virtual best delivers on an event experience for delegates," Michael Doyle, the executive director of VEI, says in a statement. "This survey demonstrates that there are significant similarities, as well as fundamental differences in the experience and the results regardless of format."
To complete this research, PCMA, UBM Studios and VEI identified 479 marketing and event professionals who could comment on "work-related use of events, expositions and virtual engagements within corporations, associations and other organizations," according to a press statement. The research was conducted in May of this year.
The survey finds that respondents in the online and physical event sectors are both very comfortable networking with their peers during events – over 80 percent responded they are either comfortable or very comfortable connecting with strangers. This disproves the oft-repeated idea that industry members dislike or are uncomfortable with networking opportunities in their communities.
Sharing information learned at events occurs more frequently with physical attendees, with about 51 percent tweeting and texting new factoids among colleagues; only 41 percent of online attendees have shared event info in their social networks.
However, online attendees are more likely than their live counterparts to instant message info during an event.
While some say that there is no better way to engage with an audience than live, participants of face-to-face and online events are all admittedly easily distracted. 81 percent of in-person attendees are likely to check their email, and online attendees are slightly more likely to do so at 83 percent.
Over 60 percent of live and virtual event attendees are likely to step out of an event at some point.
According to the survey, 66 percent of online attendees are likely to take a phone call during an event, while only 48 percent of live attendees are likely to do so.
Online attendees are also most likely to browse the web compared to those attending a face-to-face conference, at 42 percent versus 28 percent.
Business travel is either a necessary evil or luxury of the publishing industry, depending on your viewpoint. This survey finds that the 32 percent of respondents who enjoy business travel attend more conferences than the 51 percent of those surveyed who 'don't mind' traveling for work.
17 percent of those who 'don't enjoy' business travel are more likely to utilize virtual events for their education, networking and other business-related functions.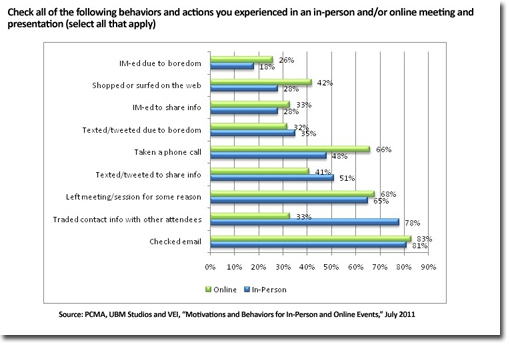 Similar Goals, Regardless of Platform
Regardless of the format of the event (live or virtual), attendees are looking for similar key traits of the experience.
All respondents surveyed seek content that is available online and through mobile relevant to their purposes before, during and after an event. Attendees at virtual and live events are largely interested in what's new in their industry, as well as gleaning relevant product and company info; demos and application education; and the desire to connect and network with other individuals within their industry.
At both types of events, exhibitors share many of the same goals of their audience. 68 percent of responding exhibitors wish to promote brand awareness, and 65 percent are after new business development.
Other goals for exhibitors include the desire to educate their market on products and solutions (62 percent identified this as a goal); 56.9 percent wish to create new lead generation; and 51 percent of exhibitor respondents look to promote thought leadership in their respective sectors.
In reflection of these results, president and CEO of PCMA Deborah Sexton says, "Rather than focusing on how in-person and online events differ…by working together, we can move the conversation forward to provide a richer experience that engages the visual and auditory senses, drives desired actions within the event and ultimately delivers definitive business results."
Meet the Author
---