Measuring social traffic should not be confused with engagement—driving a reader to a website is a long way from having them actually interact in a meaningful way with a brand's content.
When it comes to measuring social traffic, Scott Cherkin, executive vice president of product and business development for Complex Media, suggests using a variety of online tools to maximize insights.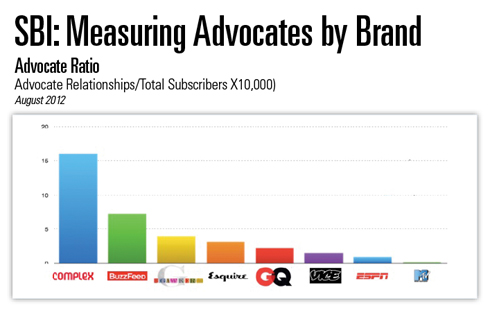 "Google Analytics provides the best month-over-month and year-over-year referral reports," he says. "So far, it's the most accurate for pageview reporting, visits and pages per visit."
Complex Media also uses Chartbeat, which he says is "the most accurate for real-time referral traffic," measurement. This platform shows interested parties exactly where the traffic is coming from and provides a look at where visitors go after their initial destination—capturing, in real-time, time spent on a site and where a user is.
"The Social Business Index is a big data approach to brand performance in social," he says. "It's the best look at engagement at scale and provides a better look at social reach across multiple platforms as well as a better look against relevant competitors."
Cherkin said that the Social Business Index, a measurement tool built by the Dachis Group, allows publishers to establish an engagement ratio by comparing the number of unique conversation participants versus the total number of subscribers in a brand's ecosystem. Unique conversation participants are the total number of individuals across all conversations involving a brand or company.
For Time Inc.'s Lisa Brewer, director of digital audience development for the Style and Entertainment Group, there are different levels that make up the key metric areas that are measured.
On the macro side, Brewer tracks metrics around fan and follower growth; demographics; entries to the site and referrals, among other things. When looking at micro metrics, she looks at likes, comments and shares; tweets, retweets and favorites and pins and repins, among other things.
"Without analytics to judge our efforts, social media can feel very stunt-like," says Brewer. "We rely on these metrics to prove the value of the various social media platforms from both a traffic-driving standpoint as well as a potential source of revenue."
By rolling out and measuring a social campaign, says Brewer, publishers can accomplish several goals, including:
1. Expanding the social footprint and reward existing fans

2. Drive traffic for brand websites

3. Amplify brand awareness

4. Increase newsstand buzz and single copy sales

"Clearly layout your goals and your success metrics before launching," a social campaign, says Brewer. "Know your social media audience and tailor content appropriately."