In prior postings, I laid out a high-level framework for turning your company into a digital first publisher. Now, I'll discuss one of the key drivers of digital success in more detail: the editorial e-newsletter.
Email is the number one way in which people sample content; at ALM, we've learned that the e-newsletter is in many ways the product. This is where most subscribers first experience and interact with our brand. If their email experience is bad, we've lost that reader, they will never click-through to our site to read our content. This makes intuitive sense.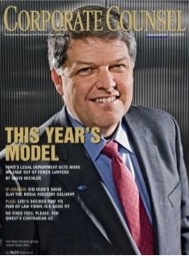 With our printed magazine, we take the time to ensure that the cover is outstanding: It has a great photo, a beautiful layout and engaging calls to action, so that subscribers don't trash it with junk mail and are drawn to open it up and read it. Now, we put that same level of thought and effort into our e-newsletters.
So, where did we start? The first step was to evaluate whether we had the right e-newsletter platform partner, because technology is a big driver of the digital experience.
At ALM we identified five key attributes that we require from our e-newsletter platform:
• White-Listed Provider
• Mobile optimization options
• Personalization tools
• Excellent tracking and metrics
• A/B testing
I'd like to highlight the two that have been critical in our success to date (that's two months since launch) – having a white-listed provider and having mobile optimization options. These two are the most crucial components of ensuring that your e-newsletter is delivered and readable. In later posts, I'll talk about how you can use the other three categories to create a highly personalized, relevant e-newsletter for each of your readers, once they're receiving the emails.
White-Listed Provider
What is a white-listed provider? It's a trusted mail carrier. This means that e-newsletter platforms, like USPS or FedEx, have technical reputations, and you want to use a provider that is white-listed by all the major ISPs. Think of it like being on the VIP list at the club. You want to be the guy who can slip right in, not have to wait outside in the line and hope you get in.
If you use a white-listed provider, you are working with a company who is recognized for sending trustworthy emails. This means that when Google, Yahoo, Microsoft, AOL and other email platforms see email coming from these providers, they trust it. Their servers look at the IP address(es) that your emails are coming from and examine whether they are on the white list. Since your IPs are white-listed, you give yourself the best possible opportunity to get that newsletter into the inbox. By contrast, if you use a non-white-listed provider, your emails will get through if you're lucky, but more likely than not, they'll end up in a junk folder or they'll bounce.
Our hard bounce rate is 0.5 percent (a typical media bounce rate is about 0.7 percent). We've been able to get it down below the average because our provider's IPs are widely trusted by email servers. This might seem like a tiny difference, but every email that goes through counts tremendously.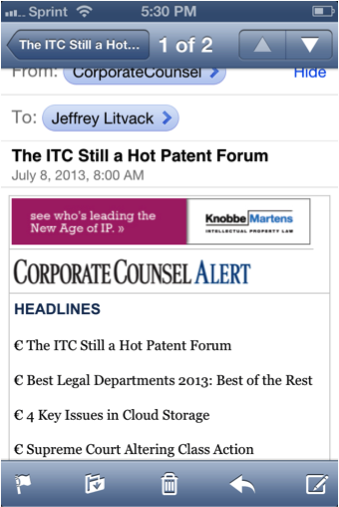 Mobile Optimization Options
Once you've ensured that your e-newsletters aren't bouncing, you have to make sure that people can read them. In this day and age, the most important way to make sure that an end-user can access an e-newsletter is to create a mobile-optimized version of every email you send.
The cost of not making e-newsletters easy to access on a smartphone is high and rising. According to Bluehornet's recent survey of more than 2,000 Americans, 80 percent of users will delete an email if it is not optimized for their mobile device, up from 70 percent in 2012. Equally as important, the number of people who will unsubscribe from that non-optimized mobile e-newsletter has nearly doubled in the last year (from 18 percent to 30.2 percent). With more than 36 percent of readers opening emails on their smartphones, having a mobile optimized email is not a nice-to-have-it is a must-have.
In thinking about the presentation on a mobile optimized device, YesMail identified three important factors that should be considered (and from our reader reactions, we concur):
• The highest area of consumer frustration with mobile marketing emails is too much scrolling (42 percent)
• 29 percent say that the layout of messages is wrong for their mobile device
• 27 percent state there is too much content
Not all providers give you the option to create a mobile-optimized version. In vetting any provider you should ask both access their technology capabilities in providing optimized versions and also ask to see sample versions being run by similar companies.
One important caveat, a mobile optimized e-newsletter should be accompanied with a mobile optimized site-there is nothing more frustrating to the reader than going from an optimized experience to a slow-loading, hard-to-read, flash-loaded (i.e., doesn't work on iPhones) made-for-desktop website.
Our Results
Focusing on just these two concerns over the past two months has yielded incredible results for ALM. Since switching to the Sailthru email platform, a mere three months ago, we've seen the following results:
• Over the past two months, page views driven by e-newsletters are up 33 percent.
• Since we launched our e-newsletters as mobile optimized versions we have seen the click-thru traffic from mobile devices rise by an astonishing 72 percent.
• On a monthly basis, visits driven by e-newsletters are up 58 percent month-over-month with e-newsletters now responsible for referring nearly 30 percent of all traffic to our sites.
In coming articles, I will further elaborate on the remaining framework structural drivers, as well as provide focus on the ins and outs of personalizing email and performing A/B testing for e-newsletters.