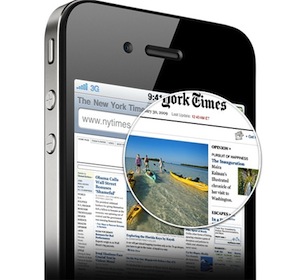 If you've been following this running series, you'll recall that the last post focused on leveraging the editorial e-newsletter to drive audience growth. Since adopting this strategy at ALM, the e-newsletter has become the No. 1 driver of traffic to ALM's sites (yes, ahead of even search).
Driving this growth is a fundamental shift in our subscribers' reading habits-specifically, a move to mobile-first viewing. Click-throughs on our mobile optimized e-newsletters are up a whopping 120 percent in the past 3 months. We are seeing mobile devices replacing the desktop as the first place our readers connect with us.
Today, smartphones are ubiquitous parts of our lives. A recent study completed by Harris Interactive found that 72 percent of people reported being within 5 feet of their smartphone at all times, 55 percent admitted to using a phone while driving, and believe it or not, 9 percent admitted to using it during sex. Equally as important, in 2013, average time spent on a mobile device (non-talk) outpaced that of online, for the first time ever.
Based on these changes, if you don't already have a mobile Web strategy, you'd better get one quickly because your users are already there.
In approaching the mobile Web, I recommend that you consider the following five key questions:
• Who should develop your mobile site-internal staff or should it be outsourced?
• How should the site be built-as a responsive site or as a stand-alone?
• Which devices should you support?
• What content should be available on the site?
• And most importantly, what's your mobile revenue model?
I will cover the first of these two of these questions in this article and the remainder in a later posting. I will also cover mobile app strategy in a later post.
In-house vs. Outsource
The first question to answer is who should develop your mobile website. Here you need to consider the following elements:
• Does your development team have mobile experience and coding skills? Keep in mind which skills you'll need: Are you building a responsive site? Are you building a site in HTML5? Are you looking to incorporate any unique advertising/sponsorship opportunities/code. On the other hand, if you outsource, do you have flexibility in the look and feel of your site, or are you stuck with choosing from just a few templates?
• Are you willing to have multiple CMS systems: one for mobile and one for desktops/laptops? This can have a lot of implications for your editorial workflow as well as your mobile content offering. At ALM, we chose a FIFO (first-in-first-out) model based on feeds from our CMS to an outsourced provider in order to get to market quickly, but there have been some serious tradeoffs with this approach. We continue to work closely with our mobile partner to improve the reading experience.
• What's your time to market? The sooner you want to launch, the more likely you'll want to use a mobile-focused platform provider who has a turnkey solution already in place. Depending upon who your partner is, as well as your need for more or less customization, you could be up and running within as little as four weeks.
• What's your capital budget and risk propensity? Another good reason to consider a mobile platform provider is if you don't have the upfront capital dollars to invest in a mobile site. Many mobile platform providers will partner with you on a revenue share basis. Two off the top of my head are Verve Mobile and Polar (albeit, I'm not specifically endorsing either in this post). An additional advantage of these platform providers is that they have integrated ad serving platforms and mobile ad networks in their operations, which will help your monetization model from Day One and lower investment risk.
• Do you want your apps and mobile website to be under the same CMS and managed by the same team? Here you need to be even more thoughtful in your overall strategy. If you plan on creating mobile apps one day, you should consider the challenges and benefits between outsourcing vs. insourcing.
Responsive Design?
Responsive design is all the rage right now, using one code base to deliver experiences across multiple screens (from smartphones to tablets to desktops). But is it the solution that ails all digital woes? In my humble view, responsive design, has a place in your digital strategy, but it's not the ultimate solution.
The main advantage of responsive design is that it lowers site maintenance costs. Maintaining just one code base ensures that each new update and/or change will be "automatically" replicated across all platforms. Additionally, responsive design makes ad management easier as every ad on your website will also have a place on smartphones and tablets.
The main disadvantage to responsive design is that it creates what I like to call "the endless scroll" on smaller screen devices (i.e., smartphones); the page seems to just go on and on forever. This is especially problematic for sites that have a lot of content.
My personal view is that using a combination of responsive and native design lead to best-in-class reading experiences at the lowest cost. More specifically, use responsive design for online and tablets, and then create a separate native experience for smartphones.
In my next update, I'll address the three remaining elements of a mobile Web strategy: which devices you should support; what content should be available on the site(s); and how to drive to a positive ROI.