Snowboard Publisher Tests Magazine for Women

Storm Mountain mulling possible standalone title.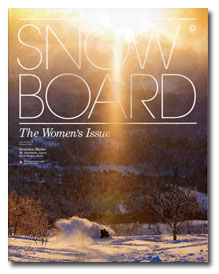 While some magazine publishers are scaling back or killing spin-offs and test issues, one niche consumer publisher is bucking that trend, at least for now.
Storm Mountain Publishing, the Boulder, Colorado-based publisher of Freeskier and Snowboard magazines, is testing a new snowboarding title for women.
The company polybagged 30,000 copies of its February "women's issue" with Snowboard magazine on the newsstand, and mailed to select subscribers—presumably women. The 100-page magazine carries 36.75 pages of ads. The February issue of Snowboard, by comparison, carries 78.75 ad pages.
Publisher Brad Fayfield said the company plans to publish another test issue in 2009, this time with double the distribution (60,000 copies) and as a standalone on newsstands. "If it continues to flourish in 2009, we'll increase frequency and present it as a standalone title," Fayfield told FOLIO:.
The move comes at a time when publishers are taking a hard look at their portfolios—particularly spin-offs of flagship brands—in the face of an economic crisis. In November, SI Latina and O at Home folded, and the frequency of Outside's Go was scaled back from bimonthly to twice a year.
And in July, Condé Nast's 600,000-circ bimonthly Golf for Women was scrapped after 10 years in publication.
Meet the Author
---