The Smithsonian

The Smithsonian has plenty of ways to reach its members beyond its 19 museums.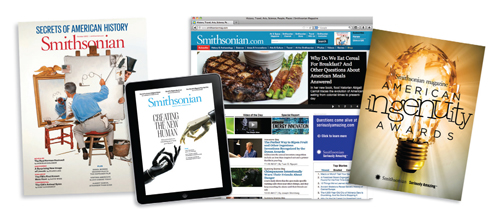 The Smithsonian is more than just one museum, and more than just one magazine. In fact, the organization has a total of 19 museums, 9 research centers, 140 international affiliate museums, a magazine, a tablet magazine, an events division and a massive infrastructure of real estate, all of which it uses to leverage revenue and sustain membership.
However, from a publishing perspective, it has four primary platforms—the magazine, the website, social media and a tablet edition.
Smithsonian Magazine has a total circulation of 2.1 million. But it's available to non-members as well, selling another 6,200 copies on newsstands. The magazine is also ad supported, and unlike several publishers who have seen significant year-over-year declines, Smithsonian is only down .61 percent in ad pages for 2013 when compared to 2012.
In 2010, The Smithsonian decided to invest heavily into digital assets. Steve Giannetti, vice president of marketing and advertising, says its strategy was three-pronged—create good content, increase traffic and monetize.
Good content was perhaps the easiest step, considering the vast information assets the organization has access to. Still, organizing the right content and finding the right balance between original and curated content is a continued challenge.
Giannetti says one of the best traffic vehicles for the site is its "Smart News" blog. "It's looking at the world through the lens of the Smithsonian," he says. "It's both original and curated content and its typically updated four to eight times daily. It's a big traffic and monetization driver."
Social media is also a traffic driver for the website. Smithsonian Magazine's Facebook page has nearly 150,000 likes. But more important is the "People Talking About This" (PTAT) metric, which averages around 15,000 on a daily basis. The magazine also has over 75,000 Twitter followers and over 1 million Pinterest followers. Not to mention additional touch points on Instagram, Tumblr and Youtube.
Magazine subscribers get the added benefit of free access to the tablet edition. The tablet edition, as Gianetti describes it, "[is] a more interactive experience with enhanced pages," he says. "It has been a great way to get a richer and deeper dive into our magazine's content."
Currently, digital platforms are driving around 11 percent of the organization's revenue. However, Gianetti has ambitions to grow that number to 15-20 percent in the future. "The way we grow is through sharing our content online," he says. "People love to share cool and interesting articles."
Gianetti suggests that the organization's biggest hurdles for growth are articulating the brand, and broadening audience demographics. "We have an iconic brand, but we aren't just a museum," he says. 
While readers may have shared values, the audience skews older in print (age 50 demographic) and younger in digital (age 39 demographic). And like many publishers, Smithsonian wants to get younger. So Gianetti is hoping to leverage an intangible asset, "we feel like being smart is cool," he says.
TAKEAWAY: The Smithsonian's website has doubled its traffic since 2012 and now reaches 4 million unique visitors each month.  
Meet the Author
---