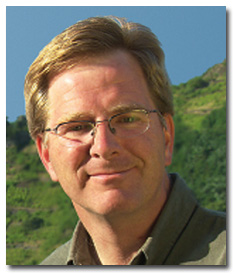 Smithsonian—the 2 million-circ. Smithsonian Media title—said it will partner with travel author and personality Rick Steves to create a special newsstand-only magazine focused on "cultural
travel."
Tentatively titled "Smithsonian Presents: Travels with Rick Steves," the special issue is expected to have a distribution of more than 100,000, and will be written entirely by Steves [pictured]. Smithsonian staffers will edit the issue.
According to Smithsonian Enterprises president Tom Ott, Steves and the Smithsonian brand are "perfectly aligned, as we aim to inspire, inform and add depth to our readers cultural knowledge and learning. With the launch of this magazine, and hopefully more collaborative efforts in the future, we can provide consumers and advertisers with a distinctive travel product created with a world-class partner who shares our authentic, culturally minded, trustworthy editorial voice."
With a $5.99 cover price, Smithsonian Presents will focus on cultural sites and destinations based on Steves' personal experience. At the center of the issue will be Steves' "20 favorite things to see and do
in Europe," along with service features, tips and advice, the publisher said. The issue is expected to hit newsstands May 4, 2010. It also will be available in digital format shortly thereafter.
Smithsonian.com will develop companion online material for the product
including audio guides, video and images from Steves' travels, in addition to developing other channels for distribution.
The special issue will be marketed directly to consumers via print and online properties associated with both brands, which include ads in Smithsonian Media publications, direct mail, through its digital network and the Smithsonian Channel.
This fall, "experiential" travel magazine Afar was launched. It's published in partnership between CEO Greg Sullivan, Joe Diaz and design and shelter title Dwell.