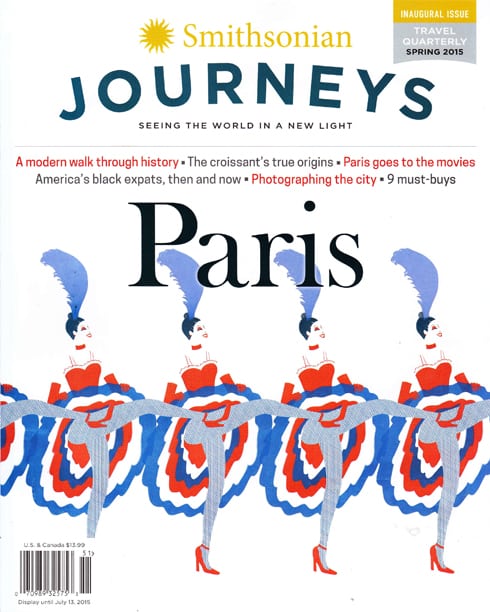 Smithsonian Enterprises is set to launch a new print quarterly called Smithsonian Journeys. The travel-themed title will be newsstand-only, but its main strategic purpose is to anchor a broader travel services strategy for the Smithsonian Institution.
Travel is a crowded market for magazines, especially the cultural, or experiential travel segments. And Condé Nast Traveler and Time Inc.'s Travel + Leisure recently poured more resources into their titles. Nevertheless, Steve Giannetti, chief revenue officer for Smithsonian Media, says the organization's existing travel assets were begging for a core product to make a travel vertical complete.
Smithsonian Enterprises already runs a 45-year-old tour operations group, also called Smithsonian Journeys, and travel content appears regularly in Smithsonian magazine and is a frequent exhibit theme in the museums.
"Our feeling was we were missing a product dedicated to travel," says Giannetti. "And we felt, looking at the market, that a high-quality, book-a-zine product would be a great launching point and a fulcrum for something we call our travel vertical."
The magazine's high cover price, $13.99, reflects a high production value and the primary revenue source. The title accepts advertising, but single-copy sales will ultimately prove the title's worth, Giannetti says. "The model here is not an ad-driven model, but having said that we do want a dual revenue stream."
If that sounds crazy given the years-long freefall of magazine sales at retail, remember that the one bright spot has been higher priced special issues. Giannetti is counting on the quarterly frequency, single-topic focus and high-end pricing to buck the broader newsstand trends. "Newsstand sales are the barometer of the success of a magazine."
More than 150,000 copies will be distributed to terminal newsstands, supermarkets and bookstores and the folio will crack 128 pages.
Each quarterly issue will revolve around a particular destination and, importantly, one that is featured by the Smithsonian Journeys tour group. The first, debuting this month, will be Paris, with the Inka Trail, the Silk Road and the waterways of Europe to follow.
Victoria Pope, who joined Smithsonian Enterprises last fall from National Geographic, will head up the new title as editor-in-chief. Content and creative will be freelanced and existing operations and business development staff will help produce and sell the magazine.