Smithsonian and Family Circle Bumping Rate Bases in 2012

Family Circle will also go from 15 issues to 12 starting in January.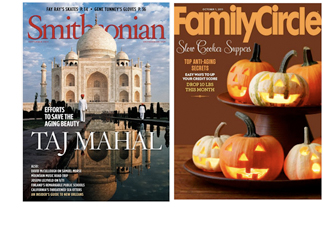 Smithsonian magazine and Meredith's Family Circle are adding to a small flurry of publishers that have recently expanded their rate base guarantees. The 11-times per year Smithsonian will be adding another 100,000 copies to its circulation starting with the January 2012 issue—a 5 percent jump. Family Circle is adding another 200,000 copies starting with the same issue, growing from 3.8 million to 4 million.
Family Circle will simultaneously cut its frequency from 15 issues per year to 12, "to bring it in line with the industry and competitive set," says a statement from the publisher. Extra issues are published in April, October and November.
The magazine's rate base jump comes close to restoring its circulation to pre-2006 levels. In January, 2006, the magazine dropped rate base from 4.2 million to 3.8 million.

Smithsonian's circulation, counted as association, non-deductible, reported an average total paid and verified circulation of 2.08 million copies for the first half of 2011, according to its June ABC statement—delivering a 3.8 percent bonus for the period. In its December 2010 statement, the magazine reported a 2.2 percent bonus.

Family Circle's circulation has been pretty tight in terms of delivering over its 3.8 million rate base. In its June 2011 ABC report, the magazine was just 16,958 issues above rate base—a .4 percent bonus. Paid subscriptions have been on the rise, however, as the average annualized subscription price has gone from $10.80 five years ago to $9.30 now. Paid subs for the first half of 2011 were 3,151,568—82.5 percent of total circ. In 2006, paid subs were 3,107,239.
Meanwhile, Family Circle's newsstand sales, as with many publishers, have been challenged. According to ABC numbers, single copy sales are down 16.2 percent when compared to its December 2010 report—627,209 copies versus 525,358.
The two magazines join other rate base jumpers, most recently including Meredith's hispanic titles and Hearst's Food Network Magazine.
Meet the Author
---