Smartphone & Pocket PC Magazine Shuttered

Citing advertising decline, publisher to launch iPhone Life this month.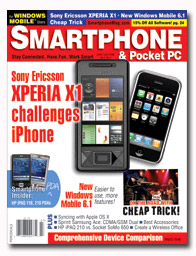 Citing market changes and declining ad dollars, Thaddeus
Computing Inc., the Iowa-based publisher of Smartphone & Pocket PC, has
decided to suspend publication of the 11-year-old magazine after its next issue.
"It has become harder to grow circulation over the past
three years since Windows Mobile changed from being PDAs to being phones,"
Thaddeus co-founder and CEO Hal Goldstein wrote on the Smartphone
& Pocket PC Web site.
In the note, Goldstein also indicated difficulties in attracting
advertising sponsorships from major companies like Microsoft, and from phone
companies and OEMs. "In order for us to sell subscriptions at current low
consumer magazine-type prices, we must have a stronger and growing circulation,
and we must attract the large advertisers who benefit the most from our
existence."
Thaddeus is "leaving the door open," according to Goldstein,
for a sponsor or buyer to step forward to either acquire or fund future issues
of the magazine, which had been published seven times per year. There are no immediate
plans to take down the Smartphone & Pocket PC Web site.
Changing Focus
In an e-mail to FOLIO:, Goldstein said that suspending
publication is actually an opportunity to refocus the Smartphone magazine
brand. This month, Thaddeus is launching
iPhone Life
magazine under the Smartphone
umbrella.
"We may or may not produce more Windows Mobile issues
after the final issue of Smartphone & Pocket PC, however, Smartphone magazine
will continue and assume the same newsstand distribution, but focus on the iPhone
rather than Windows Mobile," Goldstein wrote in the e-mail. "That leaves the
door open for a Google Android edition or a RIM Blackberry edition."
Launched in 1985, Thaddeus Computing also published the
Portable Paper, which folded in 1991. It publishes the Ultimate Palmtop
Catalogue, and produces the PalmtopPaper.com and UsedHandhelds.com sites.
Meet the Author
---